It's been an action-packed month here at Zappar with our Zapworks partners creating exciting marketing experiences in both the retail and food and drinks industry. Meanwhile, the Zappar Creative Studio team have also been hard at work with an amazing AR experience for Robinsons focused on minimising single-use plastic and encouraging outdoor activities.
Not to mention we have also had some amazing wins with two new shiny Auggie Awards and most importantly our newest piece of tech Zapvision, designed to help improve the lives of 100s of millions of people and be an essential part of a more inclusive and accessible society.


AR for packaging: Britvic - Robinsons Big Fruit Hunt
Objective: To help the world move away from single-use plastic and towards refill bottles through gamification.
Delivery Method: WebAR
Tools used: Universal AR SDK for React-Three.js
The Zappar Creative Studio team have been working on this exciting gamification experience for Robinsons. With summer here and the sun shining again, the Big Fruit Hunt aims to get everyone outside with an immersive treasure hunt. The hunt takes place in real-world locations taking customers around their local area to collect juicy fruits to fill up their virtual Robinsons water bottle. With a helpful butterfly guide to help you find those golden fruits, playing as a family you have a chance to win over 10,000 prizes including a real branded Robinsons water bottle, a family adventure activity and many more.

AR for retail: Good Measure - Foot Locker x Adidas
Objective: To communicate brand messaging and the future of sportswear in a new and engaging way.
Delivery Method: WebAR
Tools used: Zapworks Studio

Zapworks partners Good Measure worked with Foot Locker and Adidas to create this futuristic experience for the launch of their new trainer the NMD_V3. Using digital avatars of up-and-coming performers Nahir, from France, Sainté from the UK and Sacky from Italy the experience showcases the new trainers as they occupy a starring role in the user's own personal concerts with the artists who are taking the European scene by storm.
AR for OOH: SQUINT Creative – Boost
Objective: Increase brand engagement through adding a digital layer to passive advertising
Delivery Method: WebAR
Tools used: Zapworks Studio
This high-energy experience was created by our Zapworks partners SQUINT Creative for Boost Energy drinks. Launched via OOH advertising, this image-tracked WebAR experience adds another layer to traditional out-of-home advertising. Scanning the QR code on storefronts brings the can to life in 3D creating an awesome photo to share with friends as well as giving customers the opportunity to enter a competition.

Zappar News: Zapvision announcement
This month we introduced Zapvision, designed to make product packaging accessible to everyone. Zapvision's cutting-edge computer vision technology and code system provide an important solution to bringing accessibility to the blind and partially sighted to discover and access information on products and in retail. Brands can now improve the lives of 100s of millions of people simply and cost-effectively. It builds on a standard QR code to enable scanning from over 3x the distance of a normal QR code when scanned through an app featuring our free SDK available on most smartphones.
Zappar news: Auggie Award wins 2022
The Zappar team had a very fruitful trip to AWE22 in Santa Clara, bringing home two Auggies Awards, for Best Creator & Authoring Tool (Zapworks) and Best Developer Tool (Universal AR). We'd like to end the month with a massive thank you to all our users and everyone who registered and voted for us. We can't wait to show you what the next year has to offer.
Want the latest and greatest AR examples delivered straight to your inbox?
Subscribe to get an AR example every Wednesday that you can experience directly on your smartphone.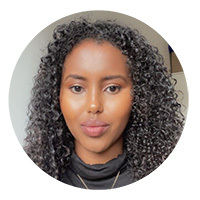 Nafisa Ahmed


Marketing Executive, Zappar