"This month we have two clear themes. One is AR + real-world activity, in the form of colouring in and physical exercise. The other is Education, with The Brandtech Group's 'Metascape Data Visualisation' and Zappar's informative 'How to build a scalable XR strategy in your organization' guide. We hope you enjoy it!"
Max Dawes - Chief Operating Officer at Zappar
AR for Retail: Nestle CPW Crayola

Objective: Drive customer engagement by adding an immersive and interactive element to traditional colouring.
Delivery Method: WebAR
Tools used: Universal AR SDK for Three.js
The Zappar Creative Team worked with the awesome folks over at Nestle and Crayola to create this engaging experience. Bringing children's colouring to life this world-tracked experience was launched via a QR code on the sheet itself available from Crayola's website as well as in some stores. Once scanned the shark comes to life virtually in the colours picked by the child which they can then take a photo of and share with friends and family.
AR for Marketing: The Brandtech Group - Metascape Data Visualisation

Objective: To help brands looking to launch and/or define their strategy in the metaverse.
Delivery Method: WebAR
Tools used: Universal AR SDK - Unity
Zappar Creative Studio worked with the marketing technology group The Brandtech Group to create this out-of-this-world experience to help clients visualise and explore the leading spaces of the metaverse and their associated usage, audience and reach data.
Say goodbye to your old-fashioned PowerPoint presentations and Google slide decks, here is a new and exciting way to present and visualise data. With this experience each metaverse platform is represented by a planet in the 'technology' solar system. By tapping on a planet it zooms in to see the data available (their function, audience insights, usage and reach). Bring the planets to life by scanning the QR code on the branded webpage and watch as they spin, jump and bounce off each other.


AR for Packaging: Bitgeyser - PackStory, Go Challenge

Objective: To promote a healthier lifestyle for children.
Delivery Method: Packstory App
Tools used: Zapworks Studio
Immersive agency, Bitgeyser used Zapworks Studio to create this impactful AR experience to encourage children to take part in physical activities. Launched via QR code on the packaging, little ones can enjoy not only healthier snacks but motivate themselves by imitating the movements of the avatar characters when dancing, playing football and doing at-home workouts. Users can also share the image on Instagram for a chance to win awesome prizes such as PlayStation 5 with the Just Dance game, speakers, spikeball and soccer (football) goals.

AR for Retail: Rovio, Venum - Flock Boxing Challenge

Objective: To increase customer engagement in store.
Delivery Method: WebAR
Tools used: Zapworks Studio
The Zappar Creative studio team worked with Rovio and Venum to create a fun and immersive way to invite people to put anger to good use. This in-store activated experience tests people's speed and timing with a roaming target on the 3D punching bag. Customers are challenged to hit the target at the correct time with each level getting harder as the time speeds up increasing difficulty. Take your chance on knocking out that provocative green pig. At the end, players receive their score which they can share on social media.
Zappar News: XR guide
This month we were very excited to announce the release of our latest Ebook 'How to build a scalable XR strategy in your organization'. This guide has been designed to arm you with a better understanding of how to build a scalable XR strategy within your organization and give you a foundational blueprint to establish an operational framework for execution.

Want the latest and greatest AR examples delivered straight to your inbox?
Subscribe to get an AR example every Wednesday that you can experience directly on your smartphone, including campaigns from brands such as Disney, Nestlé, North Face and leading Alcobev names.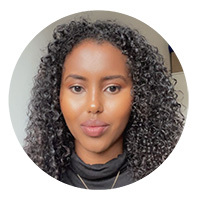 Nafisa Ahmed


Marketing Executive, Zappar