Q&A with Libby White, Editor of Packaging Europe Magazine
Connected packaging is one of the most exciting and rapidly developing business use-cases for AR. It offers a bounty of value possibilities to brands - capitalizing on the experience economy to drive sales, engage in meaningful conversations with their audience and capture valuable data.
So we are swiftly approaching a tipping point that's absolutely brimming with possibility. The excitement is well-founded, with forward-thinking brands fundamentally re-conceptualizing how they perceive packaging itself.
We've spoken before about the 'unfulfilled potential' of packaging that exists only as a passive object. AR has the power to transform 'static' packaging into a portal - transporting users to an always-on, wholly owned digital channel that's designed to inspire, reward and excite them via their smartphone. Whether it's telling a sustainability story (without waste!), elevating an entertainment partnership with a highly sharable face-filter or encouraging repeat purchases with inspirational recipes - connected packaging is all about creating a near-endless digital space for high-quality branded content. Of course, with the advent of Zappar WebAR, these experiences are now more accessible than ever - from the mobile web browser to branded apps, building in convenience from the supermarket shelf to the user's home.
If there was ever further evidence needed of connected packaging hitting the mainstream, it's our collaboration with Packaging Europe. As the leading voice in the packaging industry, they've partnered with us and AIPIA (Active and Intelligent Packaging Industry Association) to pack their latest magazine release full of delicious AR content which explores this new era of spatial storytelling. I've been lucky enough to catch-up with Libby White, Editor of Packaging Europe, to discuss the project, the ways brands can leverage AR and to hear her take on the future of connected packaging.
Zappar's collaboration with Packaging Europe brings a whole host of interactive AR content to the industry-leading packaging publication, showcasing how brands can leverage connected packaging

Martin Stahel: Hi Libby! To kick us off, could you introduce yourself and for newcomers, let us know what Packaging Europe magazine is all about?
Libby White: Hi, I'm one of the Editors of Packaging Europe. Along with our print magazine, we have an online newsfeed and we provide a wide spectrum of diverse media formats - from videos, webinars and podcasts, to the highly regarded Sustainability Awards, a live awards show and event held this year at FachPack 2019.
Packaging Europe connects early adopters, technologists and buyers across the value chain with the latest innovation in packaging technology and materials.
Our mission at Packaging Europe is to provide indispensable intelligence on packaging innovation to people looking to solve business problems through smarter packaging strategies. To make sense of the array of technologies and trade-offs. To be the absolute authority for the packaging value chain. And deliver outstanding, measurable value to each of our advertisers.
"I would advise brands to explore their options, and not to take AR at face value. Once you dig into its possibilities and potential for adding value, you will discover a whole new world."

- Libby White, Packaging Europe

Connected packaging - the time is now
MS: It's certainly exciting that you decided to focus on AR and the role of connected packaging for the latest issue. Why did you think now was the right time to really explore and showcase this topic?
LW: We attend all the key events and conferences within Europe (and beyond!) for the packaging industry. Over the last few years, I have definitely noticed a rise in the demand for connected packaging using intelligent technologies.
These wide-ranging, innovative solutions have the ability to address a number of trends concerning the packaging industry, such as sustainability, product preservation, and consumer experience.
Of note, the global augmented reality market is expected to grow at a CAGR of approximately 39% during the forecast period 2017-2023, and we wanted to explore what this means for the packaging industry.
We certainly find the pace of innovation and problem-solving fast and exciting within our sector and while AR technology has existed on the market for a while now, I've personally noticed an upwards curve (especially this year) in AR announcements and advancements in the technology.
We have seen applications already within the industry, whether that's for consumer-facing on-pack experiences, AR glasses to support remote assistance for packaging machinery builders, or to aid with pack research through 3D modeling. All these applications are still in their infancy but show so much potential.
I feel that we are on the cusp of change, and I was inspired to explore our overarching question for our latest issue: is AR a gimmick or a gamechanger?
Connected packaging opens up an incredible opportunity to add real value to products and make packaging work harder. Shackleton Whisky is a prime example of an iconic brand leveraging AR to tell their brand story in an exciting way that begs to be interacted with.

MS: Of course, we've worked together on making the magazine itself into a portal to a whole host of AR-enabled content - what can people expect to experience?
LW: Our readers will be treated to bonus content on top of the traditional printed magazine. They simply need to download the free Zappar app to their device and look out for the numerous zapcodes featured on the pages!
We teamed up with AIPIA, which hosts the rapidly growing AIPIA world congress. My colleague Elisabeth Skoda (Editor, Packaging Europe), flew to Amsterdam to film Eef de Ferrante (Managing Director, AIPIA) on green screen for our front cover. We wanted to introduce our readers to the topic in a personal and direct way.
The cover is transformed by AR, bringing our Head of Studio, Gareth Harrey's, artwork to life and allowing Eef to entice the readers into the magazine using alpha video.
Asides from this experience, our readers can benefit from bonus content accompanying an interview with Eef de Ferrante. Juxtaposing our content with AR technology was the ideal way to explore its potential. I'm excited to invite our readers to check out our in-depth article with Zappar, and the accompanying zapcodes exemplifying their dynamic and innovative projects.
Zapcodes were handy to save valuable space within our print magazine too. For example, we explore our Sustainability Awards ahead of the live event in September at FachPack, and wanted to share all 190+ submissions to the awards with our readers. As you can imagine, this would have taken pages of valuable content space. However, with a zapcode enabling easy access to digital content, we were able to convey this information in a timely and simple way to our readers.
We've also used AR to support an article with interview footage, giving our readers a more personal and dynamic experience. And last but not least, our forward-thinking advertisers seized this opportunity to connect with our audience in a new way.
AR is a fantastic way to elevate print and extend the lifecycle of your assets - transforming them into a portal to a wide range of digital content to engage your users
How AR can re-invigorate print

MS: From someone with a long track record in print, how do you feel that including AR experiences in the magazine adds value for your readers and Packaging Europe itself?
LW: At Packaging Europe we strive to be as innovative as the industry we cover, and to find new and more engaging ways to reach our audience.
Together with our Head of Studio, Gareth, we have been focusing on adding value to our content. The tradition of print is far from dead, but it's always important to keep our mediums as fresh as the packaging technology we explore. It's great to see the issue covering so many topics from so many contributors across the industry.

MS: What do you feel were the main takeaways from speaking to a diverse group of people about connected packaging?
LW: I found that key players from across the spectrum of the industry were eager to talk about AR. There's a certain buzz around the technology, and I'm looking forward to witnessing how it may be developed and adopted by the packaging industry.
I think the main takeaway was that AR has great potential if the industry can find ways to apply it to solve issues and 'blind spots', such as between the digital and physical - allowing brands to connect more closely with consumers.
It has yet to demonstrate its full potential, and I'm looking forward to seeing how it may be applied to help solve issues and meet demands for the main focuses within the packaging industry, such as sustainability, and e-commerce.
Zappar WebAR opens up a whole new level of accessibility for brands looking to leverage connected packaging - enabling their users to access AR content via their mobile web browser - no app required.
The future of connected packaging
MS: Where do you see connected packaging developing in the next few years and how do you feel that brands generate real value out of the tech?
LW: The main focus of brands is the consumer. And today, in the age of millenials, it's increasingly important for brands to connect and create a dialogue.
We hear across the industry that it's increasingly essential for brands to be able to convey their story, message, and personality - and AR could add that value.
I believe there is a huge gap between online digital experiences and physical packaging, and I fully expect to see brands starting to bridge this gap as the e-commerce market gains ever-increasing traction.
"Print is a restrictive medium in the sense that once the magazine has gone to the printers, no further changes can be made. But with Zappar and ZapWorks, we can continually evolve content and expand the possibilities of print."

- Libby White, Packaging Europe

MS: We are delighted that your team chose to use ZapWorks to create some of your own AR content. How did you find the creative process?
LW: Gareth outlined his experience with ZapWorks as easy, very intuitive, and flexible. He also found your tech team extremely helpful on the few issues we came across.
He was struck by the concept that you can take a printed page and add extra content – which can continuously be updated and changed. Print is a restrictive medium in the sense that once the magazine has gone to the printers, no further changes can be made. But with Zappar and ZapWorks, we can continually evolve content and expand the possibilities of print.
For our advertisers, it added a whole new dimension to our magazine offering – allowing for multimedia content to be included directly in the magazine.

MS: So following this issue's deep dive into the world of AR and connected packaging, what would your advice be to a brand looking to get involved?
LW: I would advise brands to take a look at our key interviews within our magazine, where key players from across the industry - technology providers, designers, brands, association directors – all give their verdict on AR and how the technology can be leveraged. I would advise brands to explore their options, and not to take AR at face value. Once you dig into its possibilities and potential for adding value, you will discover a whole new world.
The special Zappar-powered AR edition of Packaging Europe magazine utilizes alpha channel video to bring interviews to life
Final thoughts
If you're interested in discovering this whole new world for yourself, our expert team are on-hand to talk to you about how your brand or business can leverage connected packaging. With over 8 years of experience of working with the world's biggest brands to tell their story with AR, we're all about helping you leverage real value from your smartphone camera strategy. If you're after the latest Zappar-powered issue of Packaging Europe, you'll be able to find out more on their website or dive right into a subscription.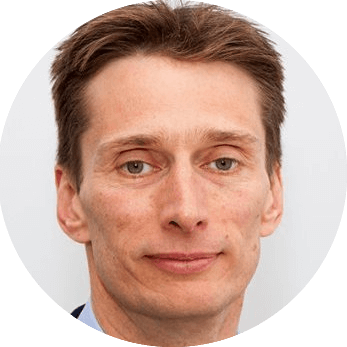 Martin Stahel


Sales Director, Zappar