With the consumer and packaged goods industry topping marketing spend in a recent Deloitte CMO Survey, (24% of an overall budget is usually spent on marketing), augmented reality offers enormous untapped potential for brands to revolutionise their packaging and the way they connect and engage with the consumers of today.
Considering all industries and verticals, consumer and packaged goods probably have the least amount of information on their customers compared to the amount of physical contact they have with them. Why? Because until now, technology hasn't offered a practical, measurable, and effective solution for joining the two.
At a time when your marketing department is spending more on digital advertising than ever before, your brand is sitting on an unrealised marketing channel that's been dormant in every supermarket, home, office, and shopping centre around the world—until now.
In this post, we'll share nine actionable ways in which you can improve your brands' (or clients') packaging and ways you can connect and engage with people.
---
Packaging first principles
Let's take a step back— what's the real purpose of packaging, in addition to physically housing a product? To make your product visible on shelves, to increase brand awareness, to protect your product, or to carry important information such as ingredients and legal T&C's?
The emphasis on packaging and unboxing as part of brand experience has certainly come a long way. But, let's be honest, beyond that, and for the most part packaging sadly ends up as little more than bin fodder. But a revolution is happening that will turn passive print into interactive packaging.
In terms of media budgets and spend for most business it falls into three broad buckets: paid, earned and owned media. The introduction of AR is a powerful new way for brand owners to reimagine packaging as the most powerful media channel they own and control as we enter a new era of enabled, enhanced and connected packaging.
So how can you, as a brand, increase the relevance and impact of your packaging? With consumers now spending over five hours on their smartphones daily, AR holds a powerful and accessible way for you to enhance your packaging, drive deeper conversations with users, reach new audiences, and deliver more precise analytics and measurable results.
Better still, a recent study by Stylus Packaging Futures (July 2017) shows that there is genuine consumer interest in connected packaging:
78% of consumers want more information than appears on pack
64% of consumers in the UK are interested in packs being connected
50% want to scan for provenance information
54% women would like to access cosmetics information from pack
77% want to know when products expire
So we're pushing against an open door. Now we just need to step through it.
Here are just nine ways you can look to take advantage of augmented reality for packaging.
1. Using packaging to drive sales
Ultimately, you're looking to increase your bottom line. You wouldn't be here otherwise. It's what we're all tasked with in business and fundamentally keeps us up at night.
What if I told you AR can use your existing static packaging to drive sales for your business? That's huge, right? This is exactly what we've done in a long-term AR campaign with confectionary brand, PEZ.
PEZ came to us with a problem— they had good sales of their candy dispenser products but were not seeing the same growth in sales of the candy refill blister packs. The objective was simple: increase sales of the candy blister packs and bolster the digital presence of the brand.
With this in mind, we developed a unique 'candy code' for users to scan directly from the refill packs with the PEZ Play App. When scanned with the app, an animation played to unlock custom branded mini games with high score tables and a new PEZ character for use in the photo feature. There were a total of six unique codes to find and collect, and users would not find out which code they had obtained until after purchase.
For more immediate action, brands can also link direct to purchase in the form of m-commerce stores or their own sites at a time when their customers are most engaged with their product.
With AR on packaging we can target messages relevant to the user at any point in time. That might be in store pre-purchase but it could just as well be at home when a product needs to be reordered; or cross-promoting a relevant ancillary product for food preparation or DIY; or offering a coupon or discount on future purchase in store to drive footfall. The point being that your pack becomes your storefront and an active opportunity for further sales.
2. Improve frequency of consumption through your packaging
How are you tasked with improving the consumption frequency of your product? Maybe you're investing heavily in video, or perhaps you're betting big on how social influencers can impact your brand. Or even better, perhaps you're combining the two.
AR can do this, in a much simpler, targeted, and integrated way. Let's use the example of a high street makeup brand that's trying to engage with a younger demographic and increase the consumption frequency of a new makeup line.
Activated directly from the packaging, the makeup brand could serve up weekly, episodic tutorial content from their chosen influencers in a relevant and targeted way, using a device (the smartphone) that never leaves their customers' hand. This could be combined with a wider digital paid strategy on desktop and mobile, driving views and engagement whilst improving the overall consumption of the product. And when the product is finished, a simple repurchase link is only a tap away.
Through the utilisation of globally unique codes on each product, loyal customers can be incentivised and rewarded for each product purchased and scanned.
There's also an interesting distinction to be made between activation as point of purchase and point of consumption. The end user for each may indeed be different and therefore the messages for both might need to be tailored. Similarly, you may want to avoid certain features or content experiences being made available pre-purchase and only be activated after a sales event.
We've worked closely with our partners Crown (world leaders in metallic can manufacture) to create codes that can be variably printed and placed under the ring pull of cans or bottle tops for instance and still be scanned easily on any Android or iOS devices at this small size. This opens up a new way to engage with consumers and open up other marketing, promotional and competition mechanics to drive participation, frequency, collectibility and consumption.
3. Using AR and packaging for lead generation
For any brand, lead generation and data collection are vital to building out the acquisition element of their marketing and sales funnel. Historically, collecting data using packaging has been hard work, with brands struggling to connect offline campaigns with online lead forms, using competitions and giveaways and dare we say, the dreaded QR code.
Using a device that consumers now spend their majority of their waking lives on, you can seamlessly collect data directly from your packaging in a fun and rewarding way. Not only can you collect important data on your customers, but you can now do it in a way that consumers don't feel like they're being sold to.
These kinds of activations become extremely valuable at large scale— where CPG and FMCG brands can collect large amounts of data on their customers, and give them a captivating experience whilst doing it. Brands can now turn their packaging and product lines into valuable data points.
4. Extend the real estate on packaging using AR

Brand managers, agencies, and designers are all prohibited by the design constraints of their products' packaging.AR uniquely solves this problem by allowing designers to expand packaging beyond its natural constraints, and turning static design into an interactive media channel, where content can be tweaked, improved, and refreshed at the click of a button.
Through AR, a brand's story no longer stops at the back of a crisp packet or the edge of a soda can. Brands can now tell their story in limitless space, with unlimited creative possibilities. This becomes especially interesting with medical packaging, where critical information needs to be conveyed with limited space, and CPG brands, where standing out on supermarket shelves means everything to their bottom line. And also in the food category where access to nutritional information, guidance on allergies, ingredients and recipes are of specific interest to users.
Part of our work with SIG (world leaders in aseptic packaging) looked at brand innovation in the water category. SIG were looking at a new product line based on a water carton as opposed to a water bottle. The environmental impact of single serve plastic water bottles is very real and well documented. A recyclable aseptic carton could help reduce waste and speak to a more environmentally conscious audience who still seek convenience. The use of AR helped bring this USP to life whilst also highlighting the different product variants in the range: all from the pack itself.
We're also seeing considerable legislative movement both within the US and EU when it comes to product requirements for authenticity, provenance and further nutritional information to be delivered along with a push for this information to exist digitally. The use of AR opens up a new delivery mechanism to meet this legal requirement.
5. Using AR on packaging for product visualisation
Packaging has always struggled to effectively convey the content of what it's promoting. Getting across that sense of excitement of what you'll be creating, say on a Lego box, has always been hard to grasp through static imagery.
Now, consumers no longer have to guess or make do with static imagery on products. AR can effectively demonstrate the value of a product with product visualisation. We used this with great effect on Scooby-Doo and Angry Birds Lego boxes and instructions by showing potential customers the Scooby-Doo Mystery Machine in 3D augmented reality or the finished Angry Birds Lego models.
This becomes even more valuable when brands can meaningfully show consumers what they'll be eating or drinking and how it's been produced. Product instructions can also be turned into fully immersive experiences for users to learn and understand a product's assembly, use and functionality.
Interestingly, this also creates a secondary market of asset libraries containing 3D visualisations of products, which already exist in the product design marketplace, that can be repurposed for AR experiences. This is something we've explored recently with L'Oreal as a way to present new product formats and benefits to buyers.
6. Updating and maintaining packaging relevancy using AR without the need for a reprint
Keeping a brand's packaging up-to-date and relevant in the long term is virtually impossible nowadays. As soon as a brand has been designed, QC'd, and sent their packaging to the printers, it's already out of date—let alone by the time the product is purchased. By then, a brand's packaging could be 3-6 months old, depending on the product.
With packaging being ephemeral by its very nature, AR allows brands to stay relevant by updating content, messaging, design, and promotional offers at the click of a button. This becomes super valuable—for instance, in the makeup example we used in point 2, or when legislation changes and you need to amend your messaging to reflect this.
7. Increase brand engagement with interactive content
One of the most effective ways brands can use AR on their packaging is to increase brand engagement with interactive experiences that are contextually relevant to the product, promotion or campaign idea.
It's an approach we've taken for a number of the world's biggest brands, including Rovio, Hasbro, Pez and Bulmers with Shazam. More recently, we've built this experience for US crisp brand, Wise. When customers scanned the zapcode on the crisp packet, it activated a baseball minigame where users were able to hit balls pitched at them by a virtual pitcher
Players earnt points for each ball hit, with the round ending after they miss three times. Once the game is over, participants can enter their name and score on the global leaderboard and also take a picture with the 3D pitcher model.
When creating mini game experiences, brands and agencies should keep in mind that these activations need to be unique, and compelling enough for the user to take action. We've spent years distilling this process when building AR experiences for the great and the good.
With Hasbro and the use of custom codes on LittlestPetShop and Transformers amongst others, the scanning of custom codes on products and packaging links physical play patterns to their digital apps to unlock characters and power-ups in game. This serves to increase collectibility, app downloads and average session time, which enhance the overall experience while adding greater depth for end-users and connectivity with the brand and product line.
The fact is that many brands invest hundreds of millions of pounds in promotions and partnerships to leverage passion points relevant to their audience - through sports, film, music, the arts, TV, CSR programs etc. On-pack AR gives brand owners the opportunity to leverage partnerships and content in new and immersive ways, offering them both a point of difference to users and a value-add when speaking to retailers about securing store presence. This not only further amortises this investment but increases the potential ROI.
8. Increase social engagement and sharing to increase reach through AR
Brands seem to be everywhere nowadays, with an ever-growing list of smartphones, devices, and wearables. Investing in an omni channel customer journey is vital to meeting customers where they want to be met. If you're a brand with a unique personality, or have mascots that embody your brand values, then "photo feature" activations are another super simple but effective way to further expand brand reach and create an additional touch point with your audience.
When developing AR packaging campaigns for clients, we usually recommend a social element to the campaign as standard— through "photo features" created and shared by users. We've done this in a number of different ways with Rovio, Universal, Tilly's and Sacramento Kings to name but a few.
By interacting with the brand on different social channels, as well as with the packaging, users are not only providing crucial social proof for the brand, but are also strengthening the user/brand connection for an increased propensity to purchase and drive repeat purchase. They also increase the footprint of the campaign through the most important product sales driver of all: peer-to-peer recommendation and advocacy.
9. Making packaging more data driven and measurable with AR
'Zap-Alytics' dashboard in Zapworks
Measuring performance is essential to the success of any marketing campaign, let alone AR campaigns. Marketers are planning to increase spending in marketing analytics alone by 375% over the next 3-5 years.
The best part of integrating AR in a brand's packaging and overall strategy is that every touch point and interaction with that packaging is now 100% measurable. Using AR, marketing teams and account managers can now turn their packaging into an always-on, active media channel, driving meaningful insights into how customers interact and engage with their brand. They can now be 100% confident of the ROI of their packaging and how it fits within a larger brand strategy.
Better still, using codes and variably printing on product packaging brands can create what our big data partners at EVRYTHNG call an Active Digital Identity (ADI). This effectively allows every single product to be 'born digital' and have a way of being tracked throughout its lifecycle from cradle to grave. Information related to that single product can be gathered and assigned to the code/ product through manufacturing, shipping, stock management, sale and the post-purchase consumer cycle. This allows brand owners to use this information for stock control, anti-counterfeit, product recall, inventory management, sales analysis, promotions, reward schemes, product information, added value incentives, repurchase and more. From one small code on a pack, you're able to not only build, publish and view contextually relevant information for every product but gather that data to improve your manufacturing process, logistics, sales and marketing.
This data has the potential to further clamp down on the grey market, reduce the impact of product recalls and help increase sales and frequency of purchase. Any one of these alone could have a significant positive impact both on the top and bottom line for any business. This really is nothing short of a revolution for brand owners. Seen in this light, codes on packaging become the ultimate B2B2C data & analytics tool.
If you're using AR as part of a media campaign, our solution has a 'Zap-Alytics' dashboard that brands can use to gain granular insights into their campaigns, including average dwell times, time of day, downloads, and custom events.
Conclusion
With 88% of mid-market companies (revenues between $100m - $1 billion) already using some form of virtual or augmented reality, the new battlefront for the hearts and minds of consumers has already been forged. The brands that will thrive will be the innovative thinkers, both client and agency side, who are already experimenting and defining how digital reality can expand their brand story through their packaging.
And let's not forget that packaging doesn't exist in a vacuum. This code-led approach with AR can be taken into retail POS, till receipts, take-home giveaways and other marketing collateral throughout the consumer journey to deliver relevant added value content.
We're seeing a handful of companies and agencies beginning to lead the charge - like Crown, SIG, Stevanato, EVRYTHNG, TCC Global and Anthem. They're organising their businesses to take full advantage of AR in this brave new world of Connected Packaging.
Gartner's latest report predicts that there will be 50 billion connected products on shelf by 2020. The question is, will your brand be one of them?
At Zappar we've been working with brands and businesses across the product and packaging supply chain to fully understand how best to deliver an end-to-end solution: a solution that can work within inline print production methodologies and at line speeds for code printing; that can understand the product design workflows through the product and packaging design phase; that can deliver an interface for the simple, efficient, fast, flexible, affordable and expressive delivery of content through an authoring and publishing platform; and finally can give real-time data analytics on a serialised basis. Our solution is fully scalable and future proofed. And it exists today. The future, it turns out, is now.
Want to discover how AR can enhance your packaging? Speak to one of our AR experts or start creating your own AR experiences with Zapworks right now!
---
Related links
Unwrapping packaging with augmented reality
Add 3D video to your packaging or marketing materials in our step-by-step streaming video in the 3D view tutorial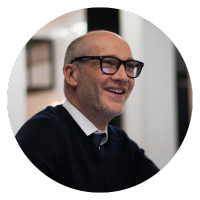 Caspar Thykier


Co-Founder & CEO, Zappar