You may have noticed that since our latest major Zapworks update, we've begun talking about our mobile WebAR beta - particularly if you've been involved in the recent discussions on the Zapworks community forum.
As we continue to work on this exciting new functionality, I'm delighted to now share some further details about how we're implementing the beta web version of our technology and why it's so important for creators and businesses alike.
At Zappar, we are passionate about democratizing AR and that means offering you a wide array of solutions for a multitude of business problems and use-cases - there is no one-size-fits-all approach! We want to empower you to create content once and deploy to many platforms, be that to the web, an app, or both - and I hope this exciting new functionality will enable you to have an even more amazing, fun and successful AR journey.

What is Zappar WebAR?
Put simply, it's the Zappar scanning app technology used to access and view AR experiences, but now running in a web browser, rather than a separate app you install on your phone.
If that's all the incentive you need to get experimenting, you can access Zappar WebAR right now. Check out our latest documentation, open the browser on your smartphone and navigate to: https://web.zappar.com
Otherwise, let's explore deeper into what WebAR brings to the table.
Our Zappar WebAR restaurant menu demo from AWE 2019 showcases how AR content can be accessed rapidly via mobile web browser following a quick scan with the smartphone camera.
Why is it so important?
Removing the need to search for and download an app reduces the number of steps a user has to take between awareness and experience, which is particularly important when you consider the short form experiences typically served through the Zappar platform. Fundamentally, WebAR means less friction and more fun.
This reduction in time-to-experience doesn't have to mean a reduction in quality. Almost all existing Zappar content works in Zappar WebAR without modification - and where there are gaps in functionality (which may be due to browser constraints), we've implemented graceful fallbacks to improve the user experience.
Users do not need any special web browsers; the version of Safari or Chrome that came with their device should work.
Nespresso have leveraged Zappar WebAR at a recent pop-up event to help share the stories of coffee producers, demonstrating their commitment to working with farmers to help revive coffee production in regions where it has been lost or forgotten.
Why is it 'beta' and what does this mean for native apps?
It's very important to say that reports of the death of the app have been greatly exaggerated. While WebAR is both promising and exciting, apps are still the most appropriate and best-performing entry point to AR content for a wide array of use-cases - for instance in loyalty apps for retailers, fan apps for sports teams and gaming apps.
Our team of experts can help you pick the right connection point for your AR strategy based on your specific needs, objectives and budget.
Also, it's important to consider that we make extensive use of new web browser functionality to make this work, and so we expect that Zappar WebAR will not be as stable or featureful as the Zappar native mobile apps while browser technology matures and our implementation is road-tested. So with that in mind, here are some things you should consider:
Larger content experiences may hit memory limits faster in the browser than they would in the app.
Browsers don't give us as much control over the camera as native apps do, so it's more important to consider lighting and glossy surfaces than it is for a native app. More on that here.
Lots of the performance optimizations available in native apps aren't available in the browser, so things may be a little slower than you're used to.
However, the rich potential for marketers, brands and developers to leverage WebAR commercially is something I'm certainly very excited about, so keep an eye out for some expert guides from our sales and business development teams in the very near future.
Our Auggie Award winning 'Always On' campaign with 7-Eleven is a prime example of how native apps remain a best performing entry point for retail loyalty campaigns.

What changes are coming in the future? On QR codes and deep links...

WebAR has got us super excited about all the new ways users will soon be able to launch Zappar-powered experiences - particularly as this will empower content creators to leverage the versatility of web links and QR codes to trigger AR experiences in future.
QR codes are enjoying a renaissance in the West and have been popular in Asia since their inception. They represent a popular and well-understood user experience for accessing content, exemplified by Apple and virtually every modern Android smartphone including a QR code scanner in their native camera app. With users not having to download an app, brands and content creators alike could enjoy a uptick in interactions when it comes to shorter-form experiences.
Deep links also open up amazing possibilities. Essentially web URLs, these can be added to websites as an entry point to experiencing AR - meaning interactive content, such as face tracking-powered face filters, can be near-instantly accessed via social media messages, email newsletters or paid media ad placements.
Keep an eye out for more information on these exciting new changes over the Summer - we can't wait.
We'll also be making further changes to Zapworks to better integrate WebAR support into your content development workflow. The Zapworks Forum is a great place to keep an eye out for updates from myself and other members of the team, as well as checking out how the Zapworks community is experimenting with Zappar WebAR.

Final thoughts
WebAR opens up fantastic new opportunities for brands and businesses. It's early days but already the possibilities are promising (with a few watch-outs). For the time being, we recommend that you direct users to the native Zappar apps while the web version is in beta, but we encourage you to play, experiment and get familiar with the new functionality. Feel free to try your content out at https://web.zappar.com/, and let us know how you get on via the Forum!
We'd love to hear your feedback - what works, what doesn't etc. And if you're a brand or business interested in how Zappar WebAR could transform your content offering, our team would love to speak to you. We're already working with our brand partners to empower them to be at the forefront of this latest development in spatial storytelling. So whether it's showcasing the exciting, powerful functionality of our Zapworks Studio 6 AR toolkit for your creative team, or exploring our work for some of the world's biggest brands, we're here to help you embrace the future.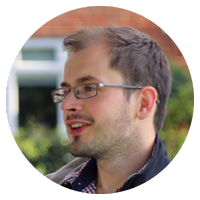 Connell Gauld


Co-founder and CTO, Zappar