ZapWorks Studio 6 continues Zappar's mission to democratize the world of augmented reality, bringing the creative community our most versatile, feature-rich AR toolkit ever. Our independent platform is built from the ground-up specifically for designers and developers who want to do more with their creative capabilities, and the team and I are beyond excited to let you get your hands on our most powerful feature set to date.
Today we're releasing our latest Studio 6 update. In addition to a ton of tweaks and fixes, 6.5 has a number of chunkier features sure to get your creative juices flowing:
World tracking - the ability to place content directly in the world around the user


Updated scripting editor - providing a powerful and familiar coding environment for developers building fancy interactive experiences
The release is already available for auto-update in Studio, or to download from the ZapWorks site. Let's take a closer look at the new functionality.
Learn about the exciting new update to ZapWorks Studio 6 - the complete AR toolkit
World Tracking
World tracking is a great new addition to the Studio feature set - indeed it's one of the most requested features from our ZapWorks community. Our implementation let's absolutely anyone build immersive world tracked experiences and provides an intuitive 3D development environment for doing so.
The included world tracking ground placement symbol automatically detects the most suitable ground plane in the user's environment, prompting users to position the content in their environment in an intuitive way. While this symbol is great to use out-of-the-box, it's also possible to customize the complete end user experience and to experiment with different mechanisms for user placement of content.
Behind the scenes, Studio 6 uses both ARKit and ARCore but content creators don't need to worry about the quirks of either - just build content once, publish instantly and share content with the world via the Zappar app, or Zappar technology embedded into your own app.
Whether you're looking to take product visualization into a whole new dimension by letting users see your products in their own home, or an agency seeking to amaze clients with a mind-blowing AR 'portal' into a whole new world, Studio 6 gives you the tools you need to make it happen.
World tracking empowers users to bring digital content to the physical world intuitively and easily with our all-new ground placement symbol
Improved script editor
For designers and developers who want to dive deeper, our updated TypeScript scripting environment enables you to take complete control over your project's functionality. The latest version makes it even easier to build intelligent and dynamic content:
Full autocomplete and type checking
Drag and drop nodes to create events and local variables
Cmd/Ctrl + Click on functions, variables and nodes to jump to their definitions
JSDoc support for documenting your script
You can find further in-depth guidance on how to make the most of this new functionality on our Scripting Tips and Tricks documentation.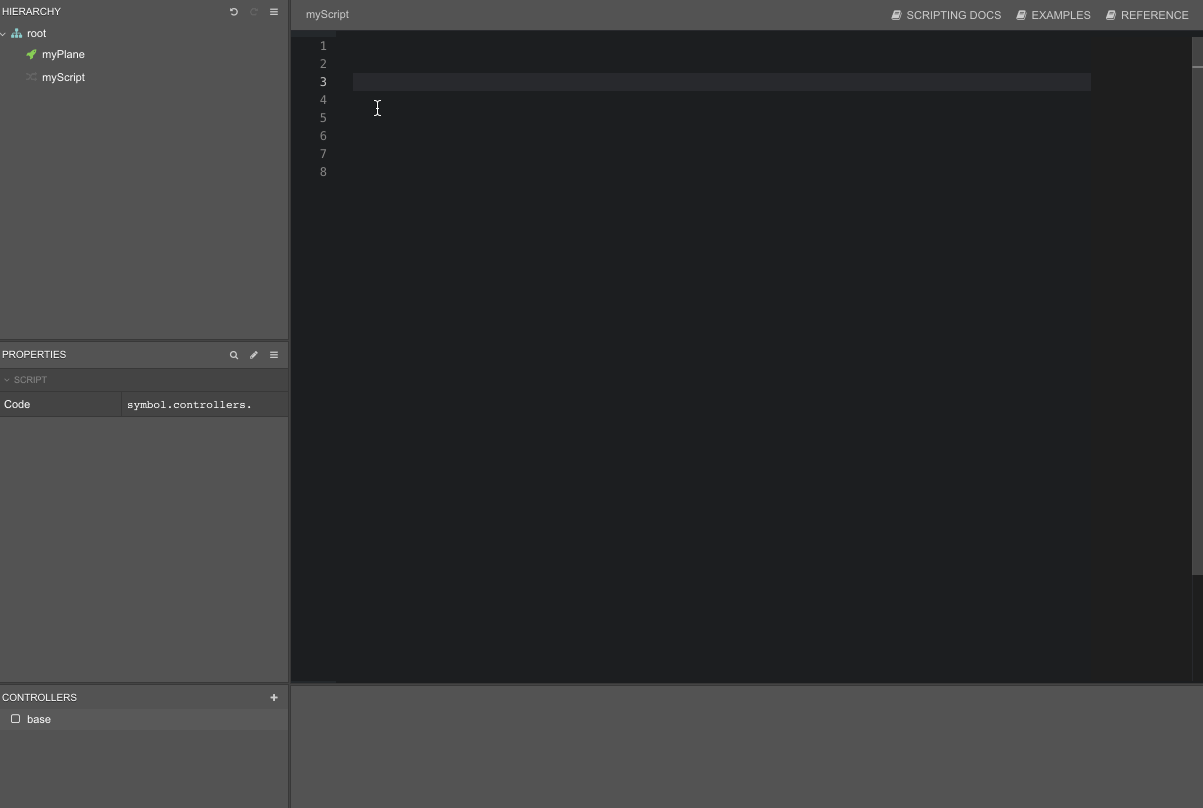 Studio 6's enhanced Typescript scripting environment gives you the power to take complete control over your AR project's functionality
Building on a foundation of AR for everybody
These major additions feed seamlessly into our previous range of updates, which combined give you access to the complete AR creative toolkit.
You can read more about them in detail in our previous update announcement blog but here's an overview:
Create incredible experiences with ease thanks to our extensive examples and templates - They're a great way to get stuck in and cover a range of topics and use cases.


Level up your world tracking experiences with our Sketchfab integration - Sketchfab's huge library of high-quality 3D models is just a few clicks away. You can browse the library directly in Studio and drop them straight into your world, face or image tracked experiences.


Get expressive with face tracking - Studio's robust face tracking support is both extensive and intuitive. Our 'Face Groups' feature allows you to attach 3D content directly to points on the user's face and animate them using 'Actions'. Add in 'Face Paint', which lets you apply images to the user's skin that stretch and deform with their movement, and you've got a recipe for high-quality face filters that beg to be interacted with.


glTF support for the future of 3D modeling - Studio's support of Khronos Groups' glTF format means you're ready and prepped for the emerging go-to format for 3D model sharing. You can drag glTF models straight into the media library to import them and we support both text-based (.gltf) and binary (.glb) files.
Studio 6's latest update works seamlessly with our existing key features, such as Sketchfab integration
Final thoughts
If you're feeling inspired and want to get your hands on all of these new features, then there's nothing stopping you! You can join a 30 day free trial right now or, if you're an existing user, Studio will auto-update the next time you open it. Be sure to check out the 'About' screen for progress on the update. We encourage you to share your creations with our AR enthusiast community over on the ZapWorks Forum - it's a great place to get feedback, inspiration, and support from our expert team. If you're a business or brand seeking to unlock the power of AR, there's no better way than equipping your digital creative team with Studio 6, the complete AR toolkit. Why not reach out for a product demo to learn more about how you can leverage AR to connect with your customers and drive revenue?