We have kicked 2022 off in true Zappar style and have not only seen some awesome projects delivered by our Creative Studio team and ZapWorks partners this month, but an exciting release from the ZapWorks platform team.

Check out what January had to offer in our latest Month in AR instalment:
AR for Marketing: Lightbox X Zappar MetaMe Avatar Creator

Objective: To demonstrate the capabilities of AR for OOH advertising
Delivery Method: WebAR

We have partnered with Lightbox, a leading digital out-of-home (DOOH) video network to launch Lightbox Unlimited AR intended to bring AR advertising to Lightbox's 80+ million monthly audience. The MetaMe Avatar Creator was built by the Zappar Creative Studio to showcase the exciting possibilities of becoming an AI-powered 3D avatar in AR, from a simple selfie. The experience has multiple applications, including personalised gaming, loyalty programmes, and especially marketing campaigns. Simply snap a picture of yourself and you can become an avatar of your choosing which you can then place anywhere in your environment.

AR for Retail: TCC, Varus The World of DC SuperHeroes

Objective: To build engagement and attract visitors in store
Delivery Method: WebAR

The team at Zappar Creative Studio worked with customer loyalty specialists, TCC to create a campaign for Ukrainian retailer Varus. Designed to attract customers, especially families, into stores, the experience is centred around two interactive games featuring the iconic DC SuperHeros Superman and Batman. Launched via POS material, customers can scan the different codes and play with their chosen hero, defeating asteroids with superman and honing their target practice with Batman.

AR for Sports: Groove Jones New Jersey Devils Third Jersey AR Campaign

Objective: To build engagement around the team's new jersey reveal.
Delivery Method: WebAR

ZapWorks agency partner Groove Jones partnered with New Jersey ice hockey team The Devils to create an immersive experience to tease the reveal of their new jersey. Activated via AR enabled posters the campaign had 2 phases, pre and post unveiling. Before the reveal date scanning the poster revealed the jersey material and striping and a date – 11.23.21 – enticing people to come back and reactivate the effect. After that date the activated posters show the intricate design details and storytelling elements of the new sweater as well as revealing a photorealistic 3D version of the new third jersey, that fans could interact with, see from all angles and get up close to see the stitching and materials in beautiful detail.

AR for Packaging: Viewtoo Aperol Spritz Kit

Objective: To increase brand engagement
Delivery Method: WebAR

Digital agency Viewtoo, used ZapWorks to build this connected packaging experience to engage and delight Aperol Spritz customers. Creating a brilliant example of how connected packaging can not only create a more immersive experience for the customer but also provide valuable information. Designed for The Aperol Spritz Kit and launched from the bottle's label, users can scan and unlock a video of the perfect recipe for the classic aperitif.

AR for Experimentation : Viewtoo Ghostbuster's demo experience

Objective: To test the capabilities of AR and have fun
Delivery Method: WebAR
Viewtoo were at it again this month and caught our eye with this awesome Ghostbuster's experience the team created for fun after the film launched in Italy. There are a whole host of business cases for AR but it's important to highlight the fun that can be had by our creators trialing out some of the newer developments in the tech (like the awesome real time reflections in this experience for example!)

ZapWorks News: ZapWorks Designer | No-code AR. Now in 3D

We have been rebuilding ZapWorks Designer from the ground up to create a no-code AR tool that provides a user experience intuitive enough that anyone from L&D professionals, to marketers, to students can create stand out WebAR experiences. This month we were excited to announce our latest feature release for ZapWorks Designer. Now supporting 3D models, you can scale, position and rotate 3D content in Designer by simply uploading your favourite 3D models, and dragging them into your scene.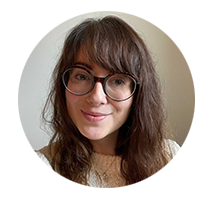 Grace Vassallo


Senior Marketing Manager, Zappar