April has been another exciting month, with our creative studio hard at work on some awesome projects, celebrating everything from Ninja training success to sustainability. Meanwhile, the ZapWorks community have been using our suite of tools to create a series of impressive marketing activations. With, of course, some exciting Zappar partnership news thrown in.
All of this and more, in April's reel below.
AR for Events: LEGOLAND Discovery Centre, LEGO NINJAGO Certificate
Objective: To create an engaging digital reward for an in-person experience
Delivery Method: WebAR

Another exciting experience for LEGOLAND from our creative studio this month with the LEGO NINJAGO Certificate, built for LEGOLAND Discovery Centre as part of the NINJANGO Ninja Training experience. Created as a digital reward for children to celebrate the completion of their ninja training, this photo feature experience enables users to place 6 different headbands on to mark each successful ninja pillar they have completed and take selfies to share. Activated via a QR on a certificate the experience is frictionless and easy to access.

AR for Packaging: Crown, Celebration Can
Objective: To communicate Crown's sustainability message and encourage recycling.
Delivery method: WebAR

We worked with the leading packaging supplier, Crown, to create an AR experience to communicate and celebrate the hard work they have put into reducing the material weight used in the cans and to encourage recycling. Launched via a QR code on the packaging itself, AR allows the company to communicate their message in an engaging way via a 3D avatar that takes users through all of the information on the benefits of this lightweight material as well as a fun recycling can toss game. A perfect example of how AR can help to convert important messages on packaging without taking up valuable branding real estate.

AR for Marketing: Big Group, BT Street Hub 2.0
Objective: To promote the new BT street hub
Delivery method: WebAR

Creative marketing agency Big Group used ZapWorks to incorporate AR into their latest BT campaign. Activated off a QR code on ad boards, users could scan the code and turn the physical-digital with a 3D model of the new BT Street hub to explore with handy information touchpoints to reveal all the features and benefits.

AR for Marketing: Curious Company, Globetrotter AR Portal
Objective: To increase brand engagement and promote new store openings
Delivery method: WebAR

Travel speciality brand, Globetrotter collaborated with ZapWorks agency partner, Curious Company to create an engaging AR campaign to celebrate the opening of their store in Trier. Launched via WebAR through a QR code on the shop's signage, an AR portal allows users to play rock paper scissors with avatar Kim for a chance to win a unique voucher code for each user to redeem in the new store. The portal is also now being used as a communication and activation for upcoming store openings and the open-air festival in 7 locations in Germany.

AR for Art: WOA Creative Company, Raba & Rafa - Silence Photo Exhibition
Objective: To bring art to life and tell a story of its creation
Delivery method: WebAR

WOA creative company have been at it again this month, seamlessly blending art and technology by bringing the photographic works of Raba and Rafa to life with AR in the Silence exhibition. Launched via a QR code next to the the pieces viewers can scan to bring the piece to life with elements leaving the frame as well as accessing behind the scenes footage of the photoshoot.

Zappar News: Zappar x Sense of Space partnership
This month we were delighted to announce our partnership with Sense of Space, a Helsinki-based technology company specialising in compression and adaptive streaming of volumetric video, often thought of as a hybrid of an alpha channel video and a 3D model. As a result, ZapWorks users now have the opportunity to add high-quality volumetric video to their AR experiences with a great end-user experience.
Want to create your own WebAR experiences?
ZapWorks is the all-in-one platform for creating, managing and publishing stand-out WebAR experiences. Get started with a 14-day free trial today.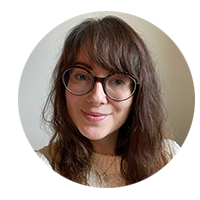 Grace Vassallo


Senior Marketing Manager, Zappar