We're excited to share the latest Zapworks Designer update, AR Web Embed.
AR Web Embed further continues our mission at Zappar to make immersive technologies accessible and easy to use for everyone by enabling you to quickly embed 3D/AR experiences on your website across desktop and mobile devices with zero code.
The use of 3D within eCommerce is rising in popularity and AR Web Embed offers one of the simplest solutions to add interactive 3D scenes and models to your website and e-commerce stores.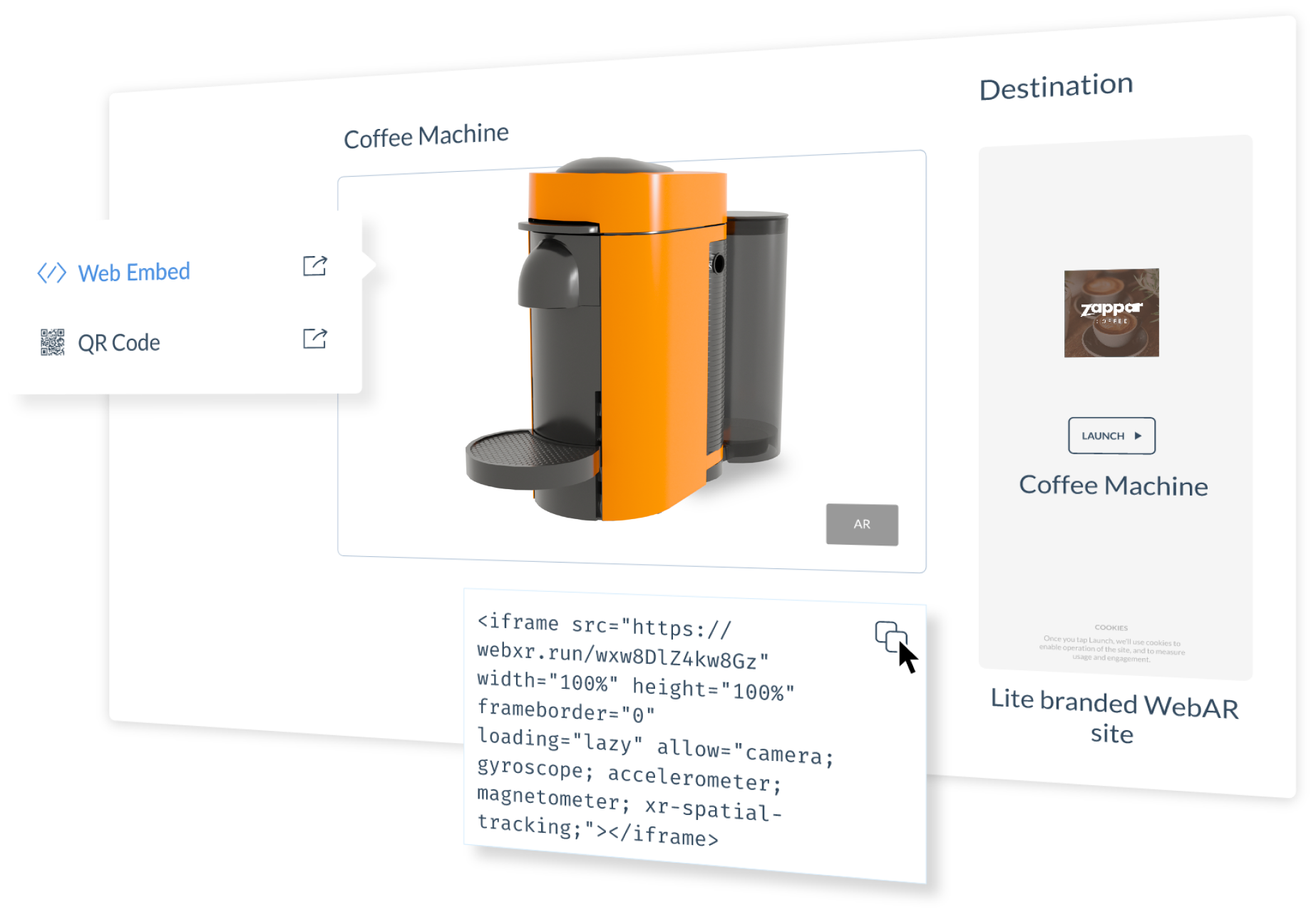 Coffee Machine experience created within Zapworks Designer. The experience can be embedded on any website as the AR Web Embed trigger has been added and the iFrame is available to copy.
Why Immersive Commerce is the new standard in customer experience.
With the pandemic changing shopping behaviours forever and forcing consumers online (between 2019 and 2021 alone online sales increased by 12.7%), retailers have had to adapt and improve their online presence.
This has meant greater competition and a real need for eCommerce sites to offer shoppers a differentiated customer experience that adds more interactivity and connection to the products we're buying online.
This shift from traditional e-commerce (passive 2D images and video) to immersive commerce, leveraging 3D/AR product visualisations will give online shoppers more contextually relevant products that they can view in their own homes and try before they buy.
Immersive commerce not only improves the customer experience but also benefits eCommerce retailers too. Shopify reported a 94% increase in conversions from products with 3D/AR as well as 40% lower return rates. Alongside this, 47% of consumers would pay extra for products they can customise using AR (Accenture).
To help brands and businesses get ahead of this shift and capitalise on the move to Immersive Commerce, we've created AR Web Embed.
Add AR to any website with zero code
AR Web Embed is one of the easiest ways to embed 3D/AR products in your website. Using our no-code tool, Zapworks Designer and a simple iFrame embed code, website, product and marketing teams can now easily add 3D product visualisations to their sites to enhance the customer experience, no matter their technical ability.
AR Web Embed works hand-in-hand with our no-code, drag-and-drop tool, Zapworks Designer, making it super easy to create immersive product experiences that you can quickly embed into your website to increase conversions, drive sales or simply inform buyers on new product features and functionalities.
If you're familiar with using Zapworks Designer, then creating an AR Web Embed experience is no different to building a world-tracked AR experience. All you need to do is create an additional trigger, this will then generate an iFrame (code snippet) which you can copy and paste into your visual website builder of choice (Wix, Squarespace etc).
Key features
We're super excited about all the great features AR Web Embed offers right off the bat. If you're an existing AR creator, or you're brand new to AR, you'll feel right at home building AR Web Embed experiences in our no-code editor, Zapworks Designer.
Easily embeddable iFrame
Display your AR experience in any visual website builder with an easy-to-embed iFrame. With AR Web Embed you don't need to be a developer or have experience with coding. The code remains the same no matter where you paste it or what changes are made in Zapworks Designer.
Fully animated and interactive 3D models
This video shows the watch experience used on our AR Web Embed page. It highlights how you can utalise animations within AR Web Embed experiences.
By default, AR Web Embed gives your customers an interactive 3D viewer with idle animations right of the bat, meaning as soon as a customer lands on the page, they get an engaging 3D experience – straight from the get go.
Integrates with your favourite no-code website builders
There's no need to code or use up precious developer resources – AR Web Embed works with the world's most popular visual website builders like Wix and Squarespace so all you have to do is copy and paste a simple iFrame into your builder of choice and hit publish.
Read more about the full feature set on our product updates page.
Transform the way you sell products online
With the shift from passive 2D e-commerce, to 3D immersive commerce, it's no surprise that we are most excited about the opportunity of AR Web Embed for E-commerce owners and the agencies working alongside them to drive conversions, increase product sales and decrease returns.
AR Web Embed offers a number of benefits that we believe are perfect for these folks.
Increased shopper confidence
56% of shoppers say they have more confidence in product quality when shopping in AR – this confidence level comes from the customer trying the product before they buy it and AR Web Embed, not only enables you visualise your most important products but also the ability to add multi-scene functionality so customers can move between different makes, models, colours, shapes and sizes.
Increase conversion rates
Shopify recently stated that products with 3D/AR included saw 94% higher conversion rates – with AR Web Embed easily being able to be added to any website, we're excited to see product managers, marketers and site owners being able to unlock this opportunity too.
Reduced return rates
As well as increased conversions, Shopify also reported a 40% reduction in returns from products that included 3D/AR and achieving these kind of stats just got even easier with AR Web Embed. Your customers can now explore your products while viewing them from every possible angle, position and placement, reducing the propensity of making a poor purchase decision.
This video shows a plant experience from our demo website. This experience highlights multiscene functionality meaning you can create a series of scenes and link them together with actions to move through different models or options.
How can I start using AR web embed?
To start adding AR to your website, head over to zap.works and start a free 14-day trial. Within the project page of the Zapworks CMS, you'll notice you can create a new trigger type.
Select 'AR web embed' and copy the iFrame code. This code can then be added anywhere on your visual website builder.
Check out our demo site on Squarespace and also some AR web Embed examples on our website.
As always, if you need help with your Zapworks Designer project you can get in touch (Pro and Enterprise customers), check out our documentation, or book a training course for your team.
We can't wait to get your feedback on the latest release and will be actively seeking out user testers who would like to share their experience.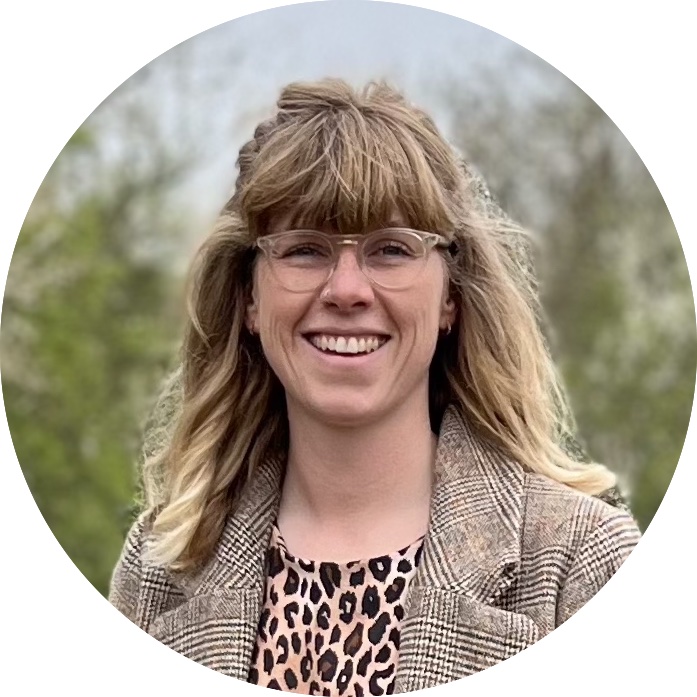 Emma Moore


Product Marketing Manager, Zappar