Jones Soda is a beverage company known for its unique flavoured sodas and distinctive packaging. Jones Soda gained popularity thanks to its unconventional flavours such as bubblegum, green apple and watermelon. One of the standout features of Jones Soda is its brand, deploying colourful, quirky and unique product packaging to attract customers. The company encourages consumers to submit their own photos, which are then used as labels on their bottles. This creates a personalized and interactive way for customers to feel part of the brand.
Jones Soda worked with ICON XR Studios (formerly August Allen), a Clio award-winning creative agency that works with brands at the cutting edge of technology to drive brand cut-through. They are known for creating content that attracts attention, engages audiences, and converts new customers, working with brands such as Rise Broadband, UCHealth and Wana Brands.

Key Statistics
The WebAR experience was incorporated into Jones Soda's 'REEL labels' programme and sold into 22,000+ retail locations in the US and was promoted across their website, and social media channels, with influencers, paid media support, and trade PR.

The Brief
Jones Soda approached ICON XR Studios to help them improve and enhance their existing 'REEL Labels' programme, launched in 2021, with a faster, seamless user experience that uses WebAR instead of app-based technology.
While Jones Soda already incorporated the concept of adding customer-submitted photos to their product packaging through their own native app using augmented reality, they wanted to make this experience even more seamless for their customers. Jones Soda wanted the experience to wrap videos around the outside of a soda can, making it appear that the content was 'stuck' to the bottle itself. The content would be submitted by customers and fans of the sodas and the brand, so Jones Soda needed a way to manage and implement the content themselves, at scale.

Objectives
Jones Soda tasked ICON XR Studios with four specific objectives;
Improve upon their existing custom-driven labels by allowing customers to access the content without downloading an app
Create an immersive experience that could be seamlessly launched from the bottle
Enable the team at Jones Soda to manage the experience themselves without expensive hosting and management costs
Take the AR experience beyond the bottle into media, merchandise & point of sale.

The Solution
Using WebAR technology ICON XR Studios worked closely with Jones Soda to port their existing augmented reality content from their native app to the mobile web. Using WebAR allowed Jones Soda to engage its target audience further and deliver a unique, one-of-a-kind experience with their labels without users having to download an app.
Jones Soda and ICON XR Studios collaborated to determine the design and implementation of the WebAR experience. Given that user-generated content and storytelling were already intrinsic to Jones Soda's brand, incorporating these elements into the AR brief and overall experience was a fundamental requirement. This aspect was discussed extensively in the early stages of the creative process. ICON XR Studios played a crucial role in guiding Jones Soda on the technical capabilities and limitations of AR, which proved invaluable in developing the experience.

"We have always taken a highly personalized approach with Jones labels," said Curt Thompson, Director of Marketing at Jones. "It has included fan-designed art, special label campaigns, and other fresh ideas unseen in the beverage industry before us. The new technology ICON XR Studios built for Jones takes this idea to the next level and allows us to celebrate our community in video on our packaging, and unlock new ways to share their stories."

The foundation of the AR experience revolved around utilizing the labels on the soda bottles as the canvas. By tracking and overlaying the AR experience onto these labels, the aim was to create an interactive and visually engaging encounter. Consequently, the main objective was to incorporate user-generated videos, seamlessly integrating them into the AR experience and wrapping them around the can.

Custom back-end
As part of the brief, Jones Soda wanted the ability to upload artwork and videos themselves, reducing the burden on third parties to handle content management, hosting and delivery.
To enable seamless uploads, the project was developed using the Laravel framework and was integrated with a MariaDB database. Meaning through ICON XR Studios' dashboard users could upload images and videos which were then processed using Zapworks tools.
To ensure precision, when a bottle's QR code is scanned, the system retrieves the specific trained label from the server. This approach was adopted to prevent Zappar from attempting to recognize multiple labels simultaneously, thereby minimizing potential recognition errors.
"Traditionally, brands like Jones needed to rely on third-party vendors and agencies to create AR campaigns, and each campaign had to be created from scratch every time," said Kristina Veltri, CEO of ICON XR Studios. "Now, Jones can tap into AR on its own, make changes on the fly, test in new communities, and instantly adapt to delight and engage its audiences."
Challenges
Throughout the creation process, a couple of creative changes arose that ICON XR Studios problem-solved with the client.

Image tracking vs cloud image look-up
In the most idealistic version of the project, Jones Soda described a version where a user would point their phone at a bottle and the AR experience would automatically launch – this is what's called cloud-image look-up, and allows for the activation of AR experiences via pre-defined imagery within an existing mobile app.
In this instance, ICON XR Studios advised image tracking technology via WebAR for a number of reasons:
Accurate UGC content delivered and tracked per bottle
Cloud-image look-up is only available in mobile apps and JS wanted WebAR
Modest budget – a custom cloud-image look-up solution was too cost prohibitive
In addition, here at Zappar we always advise a clear call to action when delivering any type of AR experience. This ensures the end-user knows that augmented reality content is available on the bottle and why it's valuable to them.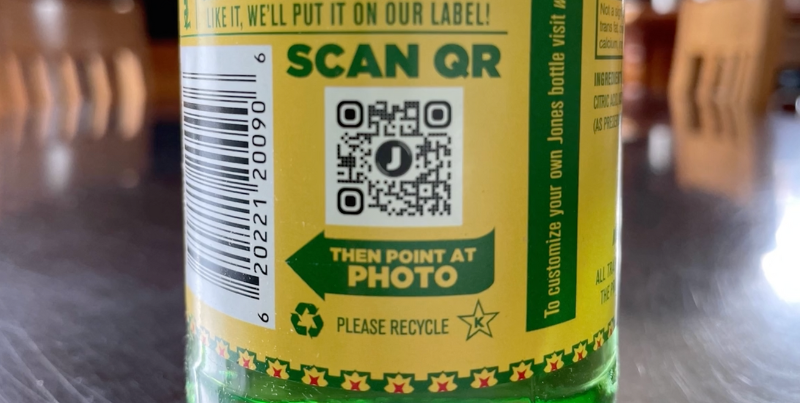 Careful planning was essential to determine which experience would be associated with each soda flavour, considering that the labels varied for different flavours. This involved strategizing and assigning appropriate AR content to correspond with specific soda labels, ensuring a coherent, accurate and tailored experience for each variant.
Overall, these considerations and adjustments were necessary to optimize the user experience and successfully implement the WebAR on Jones Soda's packaging.

Technology
To create the experience, the team at ICON XR Studios used the Zapworks Unity SDK to create the curved surface tracking element while creating and updating the user-generated content within Zapworks Studio. This ensured that the creative brief was met, that no app was required to launch the experience for the customer, Jones Soda could update and add videos shared by their customers and that the creative and running costs were kept low.

Deployment
To launch the experience, Jones Soda went big. They put the experience live on products in more than 22,000 retail locations. This ensured significant exposure in stores around the USA, while also keeping parity and consistency with their existing comms and website messaging.

The results
Overall Jones Soda were very happy with the changes made to the existing process and are very happy that it's a vastly improved project, and overall faster, and less expensive than what we were using previously.
AR has superseded other engagement channels for Jones Soda. The self-serve WebAR platform created for Jones by ICON XR Studios using Zapworks was fundamental to the success of their 'REEL Labels' programme. Jones Soda is now expanding its usage of Zappar-powered WebAR into posters for PRIDE this year.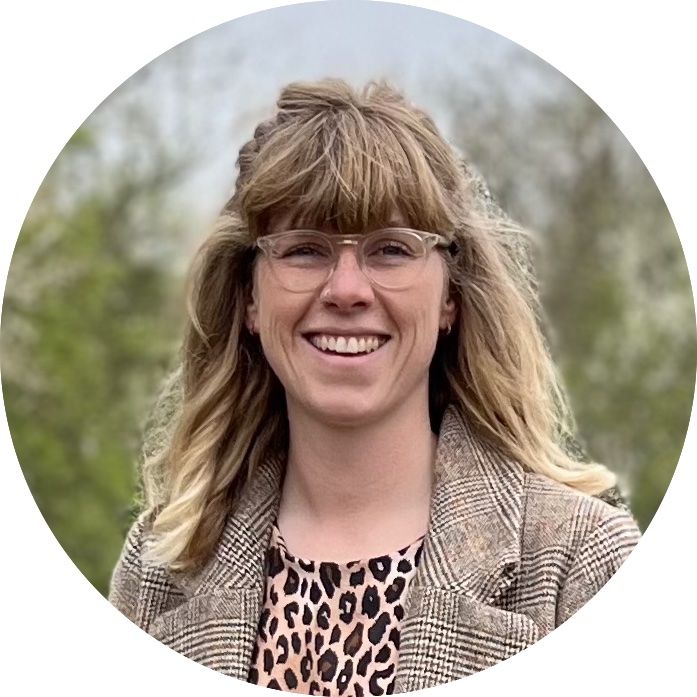 Emma Moore


Customer Success Manager, Zappar