Today I'm delighted to announce our new partnership with Eden Reforestation Projects, joining a growing community of businesses big and small worldwide committed to building a more sustainable world.

Eden Reforestation Project's mission is beautifully simple: to support some of the poorest communities on earth by giving them jobs and a secure future for their families by helping build a more sustainable planet for us all by planting trees through community driven reforestation programs and thus helping combat the larger climate issues we face globally.

It's great to see some of the biggest companies in the world like Nestle, Unilever, Reckitt Benkiser and Hasbro for instance making commitments to reducing their impact on the environment and committing to goals to reduce single use plastic and join the circular economy. Clearly at their size and scale their impact can be immense. But that should not absolve the massive long tail of SME's like ourselves from contributing to this global effort by supporting incredible initiatives like Eden Reforestation Projects, who to date have been responsible for planting over 400,000,000 trees around the world and providing jobs and livelihoods to impoverished communities across the world.

How and why did Zappar start this partnership?

At Zappar we understand that we all have a role to play in trying to reduce our collective impact on the world.
Which starts with the small steps…
Recycling
Composting
Ethical and sustainable sourcing of suppliers, equipment, food and beverages and other consumable office goods
Reducing our travel where possible

But as a digital business, empowering users with our SaaS solutions across the world, we know that we are also contributing to a larger use of servers and energy generally. With the launch of all-new ZapBox, as the world's most affordable Mixed Reality product, we're also now creating consumables ourselves and shipping these to customers around the world, therefore we have a responsibility to not only reduce waste but try and contribute back to the world's natural resources in a positive manner..

Whilst looking for a way to do so, a beautiful piece of serendipity came into play for us. Not long ago, Daniel Hartz, our wonderful ZapWorks Customer Success Manager and Sustainability Champion was offered a position at Eden Reforestation Projects an opportunity that would allow him to marry his passion with his profession, one he quite rightly jumped at. Although sad to lose such a great team member we couldn't have been happier for Daniel and his move was also a great opportunity for us at Zappar. [a]

It put Eden Reforestation Projects squarely on our radar and gave us the opportunity to see the incredible work they've been doing for over 15 years in forest regeneration projects around the world supporting some of the poorest communities on earth. This was the piece that had been missing for us in how we could support sustainability through our business and contribute.

Eden Reforestation Projects

Our mission over the last 10 years has been to democratise augmented reality and help the next generation of developers and designers create value through this facilitating technology. Which we hope will partner successfully with Eden Reforestation Projects' much bigger and more powerful goals for democratisation offering some of the poorest communities on the planet access to work, food, education and medicine and most importantly a sense of self-determination and purpose. In our own way through this partnership we hope we can help support that vision through our own actions.

What we'll be doing for sustainability

So from now on, through our partnership with Eden Reforestation Projects, for every ZapWorks subscription or ZapBox MR headset we sell we've committed to planting a tree with Eden Reforestation Projects.

We will also be monitoring our travel and serving and hosting costs as a business and carbon offset through planting trees with Eden Reforestation Projects.

We could not be more excited to start this journey and delighted to say that the first 2,500 Zappar trees have already been committed against our All-new ZapBox Kickstarter backer orders and ZapWorks plans for October. It's a small start but from small acorns…

So thank you Daniel. We look forward to working with you in your new role at Eden Reforestation Projects, contributing many more trees through our community of ZapWorks users and ZapBox customers and encouraging more small businesses to follow suit. We can all make a difference.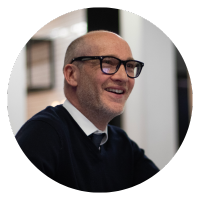 Caspar Thykier


Co-Founder & CEO, Zappar