What I find most exciting about March's best AR content is the common theme of making the audience the star of the experience - whether you're watching yourself model the latest Atlanta FC kit in their virtual try-on, sharing a stylised selfie as part of International Women's Day or adding photo-real avatars into Zapworks Designer experiences, the awareness and inclusion of the end-user is such a key component of making great AR that people connect with and remember.
Joel Jacovou - Email Marketing Manager
AR for Retail / Product visualisation: Cobra Puma - Aerojet Golf
Objective: To help customers visualise the science behind the product and drive sales.
Delivery Method: WebAR
Tools used: Zapworks Universal AR SDK for React-Three.js
Tracking Type: Instant World Tracked
Benefits of AR:
Provides additional information in an engaging way (95% increase vs non AR)
Aids in the customer buying decision at the point of sale.
This immersive AR experience was created by Zappar Creative Studio for Cobra Puma Golf for their AeroJet Golf campaign. Launched via a QR on in store promotional materials, customers can experience the AR in the store aisles finding out more information about the Golf Clubs, right where they need it most at the point of sale. The experience itself also helps consumers visualise the science that transformed the driver into what it has become, from jet to golf club.
AR for Entertainment: Tej, Hoopla Digital - Apache Pizza
Objective: To entertain customers and drive sales.
Delivery Method: WebAR
Tools used: Zapworks Universal AR SDK for Unity
Tracking Type: Image Tracked
Benefits of AR:
Enhances user engagement
Encourage customer loyalty with winning coupons
Aids in the customer buying decision
Irish digital company Tej worked with Hoopla Digital to create this engaging gamified AR experience for Apache Pizza. Delivered via WebAR for a seamless launch this game is based on a traditional 3D runner with the game board being tracked to the top of the pizza box. Different coupon codes were rewarded each day over a week-long campaign.
AR for Retail: Atlanta United - Virtual Kit Try On
Objective: To create an engaging experience for Atlanta Utd fans around their new jersey launch.
Delivery Method: Mobile App
Tools used: Zapworks Studio
Tracking Type: World Tracked
Benefits of AR:
Aids in customers buying decision
Creates a personalised customer experience
Allows fans to interact with experience both at home and out of home
Zappar Creative Studio created this experience for Atlanta United to create a buzz around the release of their new jersey.
This experience was created with Zapworks Studio, and delivered through the Atlanta United app as an in-app menu option, the Avatar SDK allows customers to try on the new kit and have a little kickabout. It extended the excitement across multiple touchpoints as fans could access it at home and in the stadium.
It also promoted jersey sales as the 'shop now' option allowed customers to go from trying on the kit to buying at the click of a button
AR for Entertainment: Eltronix, Echt + Nordwand - 'Digital village tour'
Objective: To use AR to create an engaging and playful way to explain facts about the town.
Delivery Method: WebAR
Tools used: Universal AR SDK for Three.js
Tracking Type: World Tracked
Benefits of AR:
Presents historical facts in an exciting and memorable way (70% increase in retention)
Adds interactivity to passive print
Helps communicate a complex history with multiple elements
Eltronix worked with Echt and Nordwand to create this 'best of swiss apps' award-winning experience to celebrate 1125 years of Wittwil history.
This experience was activated via a QR code on information boards, which were distributed at nine different locations and was narrated by Watto the founding father of Wittwil, a small village in Switzerland.
Orientation was via a digital map, which showed the nearest locations. Visitors could also watch entertaining videos about stories from back then.
To go with this experience there was a newspaper sent out to 30,000 households, where readers can scan the QR code on the front page and the founding father Watto asked them to take part in the village tour.
AR for Social cause: CGG - International Women's Day 2023
Objective: To celebrate and generate more awareness around International Women's Day
Delivery Method: WebAR
Tools used: Zapworks Studio
Tracking Type: Face Tracked
Benefits of AR:
Increases social shareability
Enhances user engagement
CGG leveraged Zappar's face-tracking technology to celebrate International Women's Day.
This WebAR experience encourages staff to take selfies with one of the 3 face filters and share them on social media to take part in their #EmbraceEquitywithCGG campaign.
Zappar News
Our biggest and most exciting news for this month comes directly from our quarterly Zapworks roundup. With the new Avaturn integration, the addition of Face Tracking and third-party analytics, Zapworks Designer, our no-code drag-and-drop tool, is now better than ever. These latest features will help you enhance your AR experiences and make them stand out.
Want the latest and greatest AR examples delivered straight to your inbox?
Subscribe to get an AR example every Wednesday that you can experience directly on your smartphone.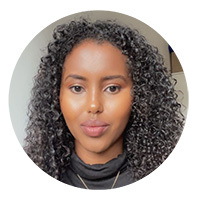 Nafisa Ahmed


Marketing Executive, Zappar