We were really excited to announce our new technology partnership with the leading shoppable media technology for ecommerce platform, AiBUY at our AR Pioneers Summit last week.
AiBUY's unique proprietary overlay technology combined with Zappar's best-in-class computer vision tech means industry-leading eCommerce platforms like Salesforce Commerce Cloud and Shopify and Payment solutions like Stripe, Google Pay and Apple Pay now have the ability to directly integrate AR experiences into the customer journey.

Together, AiBUY and Zappar can bring the checkout process into the AR experience, with no external linking required to complete the purchase using our Universal AR framework. This allows users of the platform to capitalise on the purchase intent of consumers when it's at its highest point – when they are browsing products. The partnership marries the persuasive power of AR with the retail expertise of AiBUY to provide a formidable force in experiential retail.

The partnership comes at a time when retailers are experimenting more than ever with experiential stores, extending their footprint away from physical in-store experiences.

Ryan Scott, CTO at AiBUY, commented:
"We are extremely excited about the partnership with Zappar and the capabilities we collectively bring to transform the AR landscape. Powered by AiBUY's flexible integration API's and overlay technology, clients can tie AR directly to their e-commerce and payment platforms such as Salesforce Commerce Cloud, Shopify, Braintree, Stripe, Google & Apple Pay, enabling their consumers to purchase seamlessly without leaving the AR experience. The combination of Zappar's robust platform and AiBUY's patented overlay technology, in addition to our vast collective experience, makes for a powerful partnership. We believe that this is the next evolution of Augmented Reality and are proud to bring a first-of-its-kind scalable AR Shopping solution to the market that is platform agnostic."

Ed Morris, VP Strategic Partnerships - North America at Zappar, also said about the partnership:
"Bringing the Ecomm checkout process into the AR experience allows us to leverage the power of AR to engage and excite, capitalizing on consumer purchase intent, when it's at its highest. This will greatly improve the consumer experience and our client's product sales conversions alike. It has been a pleasure working with the AiBUY team and their best in class tech and we look forward to collectively growing this partnership."

The entire experience is underpinned by our WebAR technology which enables brands to create and deploy immersive AR experiences to the mobile web without the need to download an app.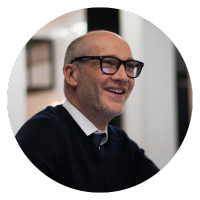 Caspar Thykier


Co-Founder & CEO, Zappar