Understanding how educators can leverage tech to make their classes, courses and learning resources more engaging, effective and memorable is a discussion that's not short of air time. Due to the growth of smartphones, augmented reality is now being seen by many educators as a key facilitating technology in this quest.
To learn more, I sat down with Steve Wileman and Suzanne Edwards, Zapworks users and co-founders of eLearning consultancy, Enlighten based in Tamworth, to discover how they've been bringing AR and VR into the Further Education (FE) and Higher Education (HE) sectors - with the aim of facilitating a more immersive and engaging learning experience.
---
DM: Hi Suzanne, hi Steve. Tell me a little bit about your background, how and why you started Enlighten and some of the amazing things you're doing in education.
SW: Prior to starting Enlighten, I was Head of eLearning for one of the largest UK based Further Education colleges creating and delivering eLearning on over 2,400 courses. At this time, I was privileged to have met a small "innovative" group of people developing a scalable AR platform. I immediately saw the impact this technology could have on the education sector, which had not really been thought about. We worked together to adapt the platform to meet the needs of educators through augmented reality.

SE: While working as a teaching assistant in a secondary school, I put myself through a teaching qualification program and graduated in 2006. By this time I was teaching ICT in prison education. After 10 years working in this area, I went on to deliver a programme of study for gold standard level 3 apprentices through a large training provider.
Seeking a new challenge, I started teaching English, PSHE and Computer science in secondary schools. After two years of doing this, I recognized a need for more online learning materials in response to various reports setting it out as a future requirement. I also noticed a lack of time and the required skill set amongst teaching staff to do this themselves. Following several discussions with Steve, we quickly realized that the future of technology for education (and us) was AR, and we wanted to be part of it.
It was time to embark on an exciting adventure and set up our own AR/VR eLearning company. Enlighten was born to provide cost-effective digital solutions to the education and business sector.

"The affordable pricing of the Zapworks platform means we can offer cost-effective proof of concept projects to our clients..."
DM: How did you find out about Zappar and Zapworks? What tool have you been using and why?
SW: Whilst working in the education sector, utilizing and helping to develop various AR platforms, we came across Zappar and began creating learning resources with Zapworks. It wasn't until we had set up Enlighten in 2016 that we were introduced to Caspar, the CEO, while both parties were working on The Times newspaper supplement on AR/VR. This supplement reached the Times readership of over 1,000,000 readers and included our white papers and statistics clearly identifying the impact of AR on first-time achievement rates in education and training.
We have been creating affordable resources for education, construction, charities (including mental health support), so we focus primarily on Zapworks Designer to keep projects within limited budgets. We work with Studio for our business clients who have larger budgets and want a little more "wow" factor while still ensuring value for money.
We collaborated with the Zappar team on some of our more advanced projects including wearable 3D printed keyrings and marketing materials. These were produced for the BETT show, the largest EdTech show in Europe and the perfect place for Caspar, Simon and the Zappar team to showcase Zapbox while still in prototype phase.
DM: Did you try any other AR content creation platforms before Zapworks?
SW: By working with an emerging AR company at a very early stage (around 7 years ago) we were one of the first to implement AR across multiple college campuses and Midlands based lower security prisons. We produced some of the first statistics that showed this new technology could enhance learning, increase engagement, retention, and achievement and even reduce costs for the establishment.
We worked with Aurasma, Blippar, and Layar to create educational solutions that helped bridge the digital skills gap but soon made the switch to Zapworks.

DM: Why did you make the switch?
SE: Although we helped to develop the Aurasma platform for the educational market some functionality has been lost with updates and the pricing model is no longer affordable for the majority of our educational or smaller clients.
The affordable pricing of the Zapworks platform means we can offer cost-effective proof of concept projects to our clients and the level of service and personal relationship we have built up with Zappar team makes using Zapworks a pleasure. We are always informed of any updates so we can take steps to manage this for our clients without compromising scan and trigger rates.
"Augmented reality is a simple but highly effective way to increase achievement and retention by embedding fully inclusive teaching resources into the learning environment, both within classrooms and throughout the establishment to encourage adoption and interaction..."
DM: Why augmented reality? What do you see as the core benefits of using AR for education? What's your view on AR and how it should be used?
SE: With an educational background, we are perfectly placed to recognize the benefits of embedding AR and emerging technologies into the national curriculum to enhance subject delivery rather than detract from it with tech for tech's sake.

Augmented reality is a simple but highly effective way to increase achievement and retention by embedding fully inclusive teaching resources into the learning environment, both within classrooms and throughout the establishment to encourage adoption and interaction.
"Embedding tech into curriculum areas that traditionally have no access to PCs and providing access to standardized resources that can be accessed as often as required becomes self-differentiating, and a means to reinforce learning."
Zappar's distinctive Zapcodes really helped with this as students instantly recognized that resources would "come to life" when they spotted the code. The educational experience of Steve and myself was of real benefit as, to ensure real value was gained from the resources, they were all mapped to national curriculum standards for the relevant curriculum area.
All curriculum areas benefit from the AR resources. Embedding tech into curriculum areas that traditionally have no access to PCs and providing access to standardized resources that can be accessed as often as required becomes self-differentiating, and a means to reinforce learning. Most resources contain interactive elements, along with video and/or audio resources which cater for different learning styles and enhance learner engagement which can be measured via Zappar's back-end analytics.
In addition to all this, AR provides increases in learner autonomy, encouraging them to take ownership of their learning and "Zap" resources outside the area they are studying, around a 30% cost saving due to a significant reduction in human error and a practical way of upskilling the emerging digital workforce,
Enlighten feel that AR should be seamlessly integrated into all lessons, learning environments and the wider community to firmly embed itself into the consciousness of the next generation - facilitating the predicted mass adoption of AR by 2020.
DM: How are you using Zapworks? Talk to me about the implementation and creative process at colleges.
SE: As long-standing educators, we ensure we always work hand-in-hand with the educational establishment and identify what value AR will bring to the learner journey that other digital tools cannot. We identify clear educational objectives for what the institute and their educational team want to achieve. Through collaborative cross-institute discussions, we always try to ensure AR will enhance their programmes of study.
Our AR resources are often adapted to suit the learning outcomes and range from discovery-based AR learning where a learner can point their device at a poster to gain more digital AR information to skills training based on the practical demonstrations needed in their chosen curriculum path. They can also acquire knowledge through gamification of drier topics such as Health and Safety, Maths & English with more engaging interactive learning experiences.
We also work with the Blended Learning Consortium - a group of over 100 colleges to offer our expertise in the field delivering regular AR/VR awareness sessions to their members on a regular basis. We include potential use cases across education and training and encompass the complete learner journey from;
AR prospectus
Pre-induction signup and questionnaires
Campus Orientation including AR scavenger hunts and health and safety information
AR Harry Potter style principal's welcome message for Staff and Students -
Advertising of campus events,
Curriculum specific resources,
Pastoral support, including mental health awareness raising campaigns, International Women's Day and other enrichment and inclusive resources or campaigns
DM: Which colleges specifically have you been working with? What AR solutions have you been integrating into their learning programmes?
SW: Working with the Blended Learning Consortium, we are able to pass on our augmented reality learning materials to a significant amount of Further Education colleges. Our resources have been digitally transforming the teaching experiences in numerous highly visual subjects & curriculum areas including, Construction, Catering, Hairdressing & Functional skills to name a few.
Perhaps our biggest reach has been with our cross-curriculum enrichment materials. Our recent International Women's Day enrichment AR posters were used by most of the colleges who are part of the consortium including:
Heart Of Worcester College
South Staffordshire College
Cambridge Regional College
Solihull College
Stonebridge College
Shrewsbury College
Coventry College
Derby & Manchester College
These resources had a digital reach of 5 million users and were used not only in the UK but had views in Brazil, China, South Korea, Australia, Canada and Russia. The AR posters even made it to Washington DC congress and will be used to support National Rosie Day 25th March every year in the US. A great reach for a startup Midlands UK based company like ourselves.
DM: Which courses specifically have benefitted from AR?
SE: One of the areas at South Staffordshire College which took up the new technology was Bricklaying, a discipline not always associated with making use of cutting-edge technology. The pedagogical evidence for improved engagement and learning in this area is measurable.
Quite rapidly, the lecturers noticed significant changes in their learners. The activity of cutting a brick in half is one that has been taught the same way for many years when this was supplemented by an AR poster that allowed learners to revisit the technique, the success rate for getting it right first time went up from around 50% to 100%. In the second year of using this technique, this has been 95% - so it is sustainable.
Alongside this, the tutors have noticed that the learners' progress is accelerated. At first, the tutors thought the learners were straying off task, but what they noticed was they were dipping into other topics through the AR resources - taking ownership of their learning.

The range of curriculum areas making use of this technology is growing. They can even revisit content using the posters around the workplace for the growing number of apprenticeship learners. Posters are being used to engage learners in Equality and Diversity, linking with national awareness days.

"Waste and associated costs of the raw materials such as bricks, mortar, sand, worksheets and handouts decreased by 30% in year. This allowed the management team to reinvest this significant saving and purchase more technology such as ipad and tablets to enhance engagement and facilitate role out of AR resources..."

- Leigh Jakeman – Programme Manager

DM: What has reaction been like from college lecturers and learners?
SE: The reaction from both teaching staff and the learners have been unprecedented. One learner commented:
"I can still practice skills at home if I miss a class and I can continue to develop my skills independently without a tutor. I find it easier to understand one of the AR resources for revision of practical tasks rather than reading notes.."
Staff have noticed benefits as well. They too can make use of AR to provide reusable resources for skills and concepts that they frequently need to revisit with learners, this, in turn, frees them up to interact more with the learners rather than having to repeat the same thing multiple times. Of the five departments at South Staffordshire college that were observed during the Ofsted inspection, those making use of AR gained a grad
"I have been teaching for 20 years. AR has changed the way how I deliver my practical sessions. In the past when I have demonstrated cutting a brick - 60% of the learners got it right the first time. Further demonstrations were often necessary. After viewing the AR demonstration over 90% of learners got it first time. They can revisit the demo using the posters around the workshop. Waste and associated costs of the materials have decreased significantly..."

- Terry Ramwell, construction lecturer at the college
DM: Has AR had any effect on learner success rates at the colleges?
SE: Yes, we've seen tremendous success within the colleges and courses we've implemented AR into. Here's some headline data for construction courses at South Staffordshire College.
50% Increase in the number of learners getting it right first time
+6% Achievement against the national benchmark for course
20% Improvement in real terms for the course
DM: Has Zapworks specifically helped you to reach these success rates and affect learner behavior?
SW: Almost definitely, analytics provide quantifiable data along with links to baseline IA surveys and regular repeats to monitor progress along the way.

It has influenced learner behavior by encouraging more autonomy of learning in other subject areas as well as their own and providing skills in emerging technology usage embedded into the national curriculum and the wider learning environment.

DM: Why do you think AR works so well in this setting?
SW: There are a number of different reasons, but primarily there are fewer barriers to adoption nowadays - teachers are now much more receptive to immersive technologies than 2-3 years ago.
Alongside this, educators can make their learning resources much more engaging, interactive and re-usable. Many more institutions throughout FE and HE are welcoming the BYOD agenda that is becoming more and more prevalent, leading to greater device penetration within courses.
The immediacy and easily updatable nature of AR (so always current) also make the tech incredibly appealing and invaluable to course lecturers and teachers. Let's not forget that AR can also cut costs, minimizes waste and increases learner retention and success in the process - which college or university wouldn't want to be using AR as facilitating technology?
"...educators can make their learning resources much more engaging, interactive and re-usable."

DM: How have you been taking these insights and learning programmes out into the wider community?
SE: As previously mentioned, our campaign for International Women's Day was a global success and the reach and long-term use of our resources far exceeded our expectations. Working in a prison environment is a difficult job and mental health issues among both prisoners and staff are significantly higher than in the general population and access to the internet is heavily restricted even in lower category prisons.
Working within these establishments, we provided AR access to support and training materials containing information on how to deal with stress and anxiety and support those who had a mental illness. There was a significant increase in self-referrals resulting from access to these resources along with a more inclusive and accepting workplace environment as educating people helped reduce stigma.
With strong military connections in both of our family backgrounds, we have worked closely with the armed forces on several successful campaigns. These have included a campaign to coincide with International Women's Day to commemorate the Ice Maidens all-female expedition to Antarctica and encourage more women to join the forces and promotional AR campaigns to increase engagement with the Army reservists.

DM: What's next in the pipeline for Enlighten?
SW: In the short time that Enlighten has been established we have achieved far more than we imagined possible. We have recently produced a significantly updated version of our Augmented Reality Mental Health campaign, "AugMental Health", that incorporates links to national helplines, self-help materials, and AI diagnostic tools and rolled it out to educational establishments, workplaces, and specially designed ones for the armed forces (mentioned above)
We are hoping to build on our successes in the coming year by becoming thought leaders and advocates for AR and emerging tech- encouraging and aiding adoption through education and training and by developing relevant qualifications for today's learners that will equip them for tomorrow's workforce and provide access to resources that help maintain the mental wellbeing of students and the wider workforce.
SE: We are currently working on a research project that will ultimately prove revolutionary in the construction industry, developing intelligent building components that provide information through augmented reality. We fully expect this to go live across 78 different components within 18 months.
We hope to increase my reach as a spokesperson for Dream IT and the power of 1 encouraging more young women to consider a career in technology. We also aim to help with this cause on a practical level and offer work placements and internships at Enlighten to help young people, and particularly women explore the job opportunities in emerging tech.
Our long-term aims include;
To be leading advocates for guidance and use of AR/VR for emerging markets.
To improve employability/enterprise skills of the local community via EdTech/AR solutions,
To increase participation and engagement in learning/employment fully utilizing AR's horizontal applicability as a business tool.
Through meeting objectives, we hope to remain thought leaders on the practical application of emerging technology, bridging the skills gap both locally, and further afield.

DM: Finally, what advice would you give to educators, schools, colleges or universities looking to add AR to their learning programmes?
SW: To really maximize the impact of augmented reality in educational establishments, there needs to be a clear implementation plan. Spending a chunk of the annual budget on AR technology can be a very expensive mistake if you haven't spoken to a professional to ensure they will help meet your remit.
When the correct resources have been purchased. dedicated staff members need to be chosen to be trained up in using the technology and to champion AR, and to help to develop skills in other members of staff. This needs the backing of senior leadership teams to ensure AR is embedded throughout the wider environment. A collaborative approach between the AR professionals, the teaching staff and the leadership team will ensure maximum impact.
Final thoughts
Whatever tier of the education system you work in, there's no doubt that AR can have a profound effect on the learning experience. As Enlighten have shown, starting small and thinking big is the way to look at AR's role within education.
Thinking deeply about how AR can break down complex concepts, or add an additional layer of interactivity to learning resources is a great starting point. AR, even in its simplest form, can add value or a splash of color to tired, overused teaching materials. It's now up to smart educators to start leveraging AR and start creating a more immersive, engaging and memorable learning environment for future generations to come.
If you'd like to reach out to Enlighten to learn more about their work in the education sector you can use the email or social channels provided below.
---
About Enlighten
Enlighten are a vibrant passionate company developing high quality Augmented/Virtual reality products, eLearning and digital consultation services.
E: info@enlighten-ac.uk
Twitter: @Enlighten_ac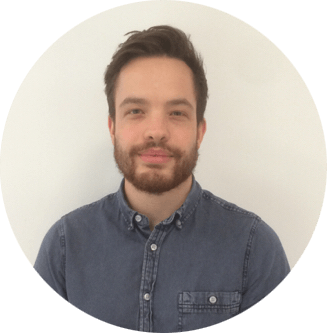 Dave Mather


Head of Marketing, Zappar