2020 has been, in a word, unique. Innovation, on an unprecedented scale, has been seen across the board as individuals and businesses all around the world have had to adapt their processes and mentalities to cope with the new operational and logistical issues that came hand-in-hand with ensuring people's safety during the COVID-19 pandemic.

In response, the augmented reality (AR) landscape has had to evolve (in order to adapt to the times and deliver new and innovative ways for businesses and individuals to connect with their customers around the world). From innovative marketing campaigns to new approaches to retail and product/ virtual try-on initiatives, here are some of our favourite AR experiences, that Zappar was involved in launching, this year.
As always, if you'd like to partner with Zappar on an AR project, or simply want a sounding board for your AR concept do get in touch, we'd love to hear from you. Likewise, you can start creating your very own WebAR experiences today with ZapWorks, by signing up for a free 30-day trial.
AR for Marketing: Purina ONE 28 Day Challenge
Objective: Increase product awareness and engagement.
Delivery method: WebAR
We teamed up with Purina to give their customers a chance to take the 28-Day Challenge. By launching the WebAR experience, customers were given an interactive way to see the benefits of changing their pet's diet to Purina ONE and what improvements to expect throughout the 28 day period. By completing the challenge, they were then sent a $5 coupon to use online or in-store.
AR for Marketing: Warner Bros. 80 Years of Bugs Bunny
Objective: Increase brand engagement
Delivery method: WebAR
To celebrate Bugs Bunny's 80th birthday, we worked with Warner Bros. to create this fun-filled campaign. Fans of Bugs can scan the QR to unlock a series of new and exciting content each day, from animations to Looney face filters, featuring classic Looney Tunes gags, like the Acme anvil and Bugs Bunny's carrot, to share online. The campaign also featured an Instant World Tracked experience, where the user can meet Bugs Bunny, check the mailbox and receive a virtual parcel.
AR for Marketing: Bandai Namco Dragon Ball Z - Kakarot
Objective: Drive awareness and engagement for a new game launch.
Delivery method: WebAR via Social Media
We were very excited to work with Bandai Namco Entertainment to create an AR experience to promote the launch of Dragon Ball Z: Kakarot. Delivered through WebAR, it was a portal into the Dragon Ball game universe, bringing in-game 360 environments, unique game footage and downloadable wallpapers to life. Designed to be simple and engaging, the experience was launched across social media platforms as well as in-store.
AR for Retail: 7-Eleven Slurpee Dance
Objective: Increase user engagement and brand awareness through an always-on AR campaign.
Delivery method: 7Rewards App
Created as part of 7-Eleven's award-winning 'Always-on' AR campaign the Slurpee dance is one in a line of fun interactive AR experiences offered to 7-Eleven's customers to encourage downloads of the 7Rewards app, repeat visits in-store and brand awareness.
AR for Retail: Beiersdorf - NIVEA SUN
Objective: Increase brand awareness and promote the health and sustainability benefits of NIVEA SUN.
Delivery method: WebAR
Educating children on the benefits of sunscreen is vital for their health and protection. We worked with Beiersdorf (NIVEA SUN) to create a 360 tour of their products. Users scan the code which then opens the experience via WebAR, and they can find videos and information on the summer products, from sun safety to sustainability.

AR for Entertainment: Universal's Trolls World Tour
Objective: Drive awareness for the Trolls movie release
Delivery method: WebAR
If there was ever a time for a fun face filter to keep the kids amused, it's now! We worked with Universal to bring Trolls World Tour to life, in anticipation of the new movie release to be launched across social media platforms. Accessed via WebAR using our new Instant World Tracking technology, users can place a map of the Troll's kingdom on the floor and explore a range of face filters with fun and scary hairstyles to try. This was a really fantastic experience to work on and with the release of Trolls moving online in response to COVID-19 it's one we're very proud to showcase.
AR for Social Cause: Solucan - #cavabienaller (#thingswillgetbetter)
Objective: To broadcast a positive brand message
Delivery method: WebAR
To emphasize solidarity and locally sourced products in a time of crisis, Zappar and Solucan partnered with Ô Quai des Brasseurs, Kombuchanv and le Temps d'une Pinte for the launch of "Scan the Can" #cavabienaller (#thingswillgetbetter). With the support of James Forest, a local musician, canned editions from participating microbreweries featured the #cavabienaller rainbow logo, where an interactive WebAR experience activates via scanning a QR code. There is nothing like a little sunshine after the rain.

AR for Packaging: Citrus World Disney Juice
Objective: Increase product awareness and engagement
Delivery method: Disney Magic MakAR App
We worked with Citrus World and Disney to implement connected packaging technology on their juice cartons to create a targeted experience that is fun to engage with and can be easily shared. Once the user scans the front panel of the carton, they can watch iconic Disney characters come to life as they jump off the packaging in playful animations. Users can also choose from multiple face filters which they can share on social media as well as a raft of exciting mini activities.

AR for Retail: Craze - Super Insects
Objective: Encourage customer loyalty and increase sales
Delivery method: Craze App
Super Insects is a fun and educational chance for children to learn all about the insect world. By using their very own activity and collector's album, kids can collect trading cards of over 70 different insects from around the world. Once scanned, each card unlocks a 3D version of the insect that can be interacted with and added to your digital album on the Super Insects app. The standalone app also includes multiple games including a world tracked virtual bug hunt and bug race! Along with an educational pop quiz and fun insect-inspired face filters that can be unlocked with each new Super Insect card that is collected.
AR for Sports: Minnesota Vikings Face Filters 2020
Objective: Increase fan engagement
Delivery method: Vikings App
It's NFL season, and we were delighted to work with the Minnesota Vikings again for the 3rd year running to bring their fans a new way to show their support through AR whilst confined to the sofa. By scanning codes participating commemorative cups or accessing the menu in the app, fans can adopt different face filters from face paint to their very own Vikings style helmet.

AR for Retail: Motorola RAZR
Objective: Product visualisation
Delivery method: WebAR
For the launch of their new flip phone, we teamed up with Motorola to create an internal promotional experience for sales staff for the new Motorola RAZR. An instant world tracked model of the phone can be placed in the room through WebAR, which can be opened to explore the key selling points of the phone including its design and camera quality.

AR for Product Visualisation: all-new ZapBox
Objective: Product visualisation and virtual try-on
Delivery method: WebAR
To support the Kickstarter launch and pre-order of our All-new ZapBox affordable mixed reality product we created a WebAR product visualisation of the device stepping through the key features and offering a virtual try-on of the headset along with a pre-order link for purchase. There's nothing like practicing what you preach and given the positive metrics we've seen around product visualisation as an effective tool for sales conversion we had no hesitation in our investment in this experience.
Final thoughts
Wow, what a year it's been! A massive thank you to all our partners that we've worked with throughout 2020, as well as the ZapWorks community who have produced some of the most innovative and immersive AR experiences we've ever seen at Zappar.

Very happy holidays to everyone and we'll see you in 2021.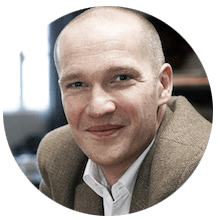 Caspar Thykier


Co-Founder & CEO, Zappar