November was a big month for Zappar, as we concluded our Kickstarter campaign for the all-new ZapBox. So, we'd like to give a warm-hearted thank you to everyone who backed the project and helped us reach our goal. Don't miss out - you can preorder your all-new ZapBox today).
While our ZapWorks community has been beavering away creating excellent AR experiences this month, we've been throwing spirals with Peyton Manning and Michelob and sippling rum with Chris Blackwell while exploring the history of Blackwell Rum - not at the same, obviously.
Affordable Mixed Reality: all-new ZapBox is fully funded
All-new ZapBox, our 6DoF Mixed Reality solution, is now fully funded! Over 700 backers pledged in excess of $75,000 to help launch the next phase of affordable Mixed Reality, meaning it'll be available worldwide in Spring 2021. We are incredibly thankful for the support given over the last month, and we cannot wait to get an all-new ZapBox in your hands very soon.

Want to buy one for yourself? Preorder today >>
AR for Retail: Michelob
Objective: To engage with fans and connect them to MyCooler awards.
Michelob wanted to profile their light beer, Michelob ULTRA, with an engaging and fun brand experience that people can try out in retail stores. The mini-games ranged from knocking Michelob ULTRA bottles with Peyton Manning, to playing golf in your own back garden. To engage players further, people can also win prizes by collecting and spending in-game points that can be spent on MyCooler.com.
AR for Packaging: Blackwell Rum 007
Objective: To celebrate the release of 'No Time To Die' by profiling Chris Blackwell's history with the James Bond franchise.
While the movie release was delayed to 2021, that doesn't stop the team at Blackwell Rum from celebrating their heritage with an informative and immersive AR activation. The bottle features an augmented reality experience available via a QR code on the bottle, where CEO Chris Blackwell comes to life to share life stories, music selections, cocktail recipes and more. Tying the history of the brand with a popular movie franchise, Blackwell Rum delivers an AR packaging experience that weaves a compelling story for their drinkers to enjoy (responsibly, of course).
AR for Print: Goodfellows - Portfolio 5
Objective: To enhance the experience of their food presentation.
How do you show how chefs plate the delicious food from Goodfellows? The team responded with an AR experience that profiles how chefs prepare their guest's food beautifully. Portfolio 5 explores the tableware behind the food industry in an innovative way that matches their brand, with a little help from ZapWorks.
AR for Awareness: Our Hearings, Our Voice - Don't Label Me
Objective: To explore how people are labeled during the Children's Hearing System.
The team at Our Hearings, Our Voice wanted to create an experience that explored the different negative labels they faced when people found out they were going through the Children's Hearing System, such as 'troublemaker', 'aggressive', and 'unstable'. The simple yet effective experience showed some of these words appear and disappear around the image, profiling the negative connotations of the words.
AR for Sports: Dania Kamrul Ariffin - hologram runner
Objective: To create an engaging AR experience that profiles running.
Dania created an engaging and fun WebAR experience, showing a hologram of a running figure on an Ice Watch logo. The WebAR work shows how designers and developers alike can quickly create impressive AR experiences with the ZapWorks toolkit and deliver to the mobile web.
Final thoughts
If our favorite experiences have inspired you to get creative with AR, then our ZapWorks toolkit has everything you need to push the boundaries of design, both with and without code. Have an experience you'd like to share? Send your project to us via marketing@zappar.com.
Want to partner with Zappar to create experiences like this for your brand or clients? We'd love to hear from you.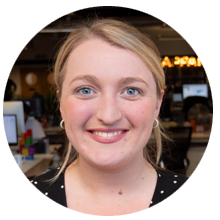 Christie Clark


CRM Executive, Zappar