The strategic three C's for success
In part 1 of how to create successful AR campaigns, we touched on the three most important ingredients (the three C's for success) for your campaign and content experience. Equally, there are three additional C's you need to think about strategically and internally as a business to maximize your return on investment using this facilitating technology.
This distinction is especially important to note - AR is a facilitating technology and not a strategy in and of itself. Similarly, using AR as a tactic is possible but underplays its power as an always-on part of your omnichannel strategy.
With that in mind, these additional three C's are Connection Point, Commercial Model and Cross-functional Collaboration.
Connection partner
At present (and for the foreseeable future), we are still at a stage in which the true power of AR is best served through a native app as opposed to the mobile web. So the first question for any brand or business owner to ask is what connection point they should use - whether they have their own app already, they can command launching a standalone scanning app for AR, or if they should use an existing third-party app as a connection partner.
If you do have your own app, then AR is a fantastic additional camera function that can help drive downloads, installs and repeat usage. It can support your strategy of connecting your physical real estate to your digital channels. It can also leverage your passive print, packaging and places turning them into your most powerful always-on media channel with a direct dialogue with your consumers.
At Zappar, we have a lightweight embed component (also known as an SDK) that can make this possible. However, not all brands and businesses can really justify taking up the real estate on their consumers' home screens, nor do they want the burden and cost of servicing an app 365, 24-7.
The alternative is to seek out connection partners that already have large audiences such as sector-specific players like 7-Eleven. Or if you can't afford the media fees associated with a connection partner, you can use our free to download Zappar app where we don't charge any media fees for usage as you're not buying an audience.
The point here is you need to think deeply about where you want to send your consumers and how you want to interact with them from the get-go. What's more important: for you to get a large reach from day one for your activation, Drive more users to your existing app and increase retention, or to test and learn and start your digital journey with AR and control the conversation with your audience?
7-Eleven Fall Football Campaign - Quarterback Training Game

Commercial model
When it comes to the Commercial Model and return on investment for your AR implementation there are two important things to consider. First, there is a natural time to competence in AR for your team and an inevitable upfront implementation cost to ready your app, infrastructure and colleagues to the benefits of the technology and tools. It's also the case that AR is by no means a silver bullet. It will not change your fortunes overnight, but it will have a dramatic and transformational effect over time when well-implemented. It's also certainly not the case that AR has to be expensive to work, but investing the time to learn how to use the tools, build the framework well upfront (and once) will help you amortize the cost, increase efficiency and deliver greater value over time.

Part of the process of defining the commercial model is to target setting and be focused on your key KPIs for AR which can be many and varied: from driving downloads, session time, social shares, sign-ups, points redemption, sales and more. It's also important to understand how the KPIs for the AR component sit alongside other metrics for your app and overall business goals. Having a framework for evaluation before the event helps test the model and allows for better accountability, learnings, and refinement in the future.

Cross-functional collaboration
Finally, there is cross-functional collaboration, and this really important. The reality is that AR is the 'minister without portfolio' of technologies. It has the potential to impact so many business units that it doesn't become the focus of any one of them. Conversely, it can get siloed in marketing or the 'digital transformation' team and loses its power to impact and improve other areas of the business from learning, training & development to connected packaging for instance.
The single largest barrier to AR being more widely adopted isn't the technology or market appetite. It is the ability for corporations to galvanize a cross-functional and cross-territory team in order to coordinate the implementation of AR within the business and its back-end systems.
Some large companies are already ahead of the game, including brands like Nestle, Warner Bros., 7-Eleven, Hasbro, Shazam, Tilly's and agencies and suppliers like TCC, Crown, and Anthem. They've already taken steps to integrate AR into their technology toolkit and create systems to evangelize the benefits of this capability to their internal teams and external customers.
It tends to be that a single senior business leader within these organizations has seen the opportunity and taken the decision to be the change-agent and champion within their company to truly commercialize AR.
Final thoughts
The fact is AR is far more than a fad or gimmicky marketing technique. It is part of a new era of spatial computing and spatial storytelling, and it's here to stay. Quite simply, it's a visual interface for digital discovery that will only accelerate from this point forward with the improvements in device hardware and the gradual progression to a future of consumer-ready head-mounted displays and glasses.
The technology works and is at its most effective when considering the three C's for success and the additional three C's of strategic underpinnings.
What you learn and implement today will only accelerate your understanding for tomorrow and ensure you're ready to take advantage of this facilitating Interface that continues to disrupt how brands market themselves.
---
Need help with an AR project?
Speak to one of our AR experts today via the contact us form.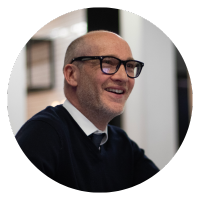 Caspar Thykier


Co-Founder & CEO, Zappar