We're always blown away by the ingenuity and creativity of our ZapWorks community. From deep space exploration, to terrifying Halloween experiences via the teleportation power of an augmented portal, we ask our users to wow us and they always deliver. This time, we sent intrepid AR creators tumbling through time with our Ancient History competition.
With a bit of in-house inspiration by way of a very cool pyramid experience (which you can build yourself!), we wanted to see projects that showcased the power of AR to transform learning - to educate, amaze and inform us about the ancient world.
Our judging panel was made up of two of our beloved and exceptionally talented creatives. First up, Anna Broadhurst, our Senior Visual and Motion Designer. She was joined by Chris Parker, our Creative Content Developer - certainly not the easiest people to impress!
As always, we had a diverse set of entrants with plenty of innovation and our panel loved exploring them. But one entry particularly captured our imagination with its sheer breadth of informative content. So without further ado, drum roll please…
1st Prize - 'The Seven Wonders of the Ancient World' by Steve Morrison
Prize: $1000
Tools: ZapWorks Studio
Name: Steve Morrison
Forum handle: stevesanerd
Target: https://forum.zap.works/t/ancient-history-competition-submissions-final/2509/2?
Frankly, Steve Morrison is a ZapWorks force of nature. He's presented very strong competition entries before, is a friendly and well-informed face on our Forum and we always look forward to seeing how he's pushing Studio.
For this competition, Steve transported us through time to 'The Seven Wonders of the Ancient World', showcasing iconic monuments via multiple tracking images that are 'unlocked' by a single code, all presented as trading cards. Each attractively designed card featured key information about the historical context, a 3D model and embedded video content for further learning opportunities.
Here's what Steve had to say on the Forum:
"Since the last competition I have been working on things Zappar said we could not do. I really don't like being told I can't do something. This competition entry is one of them...I would like to introduce Zappar's first multi-tracking image experience!"

- Steve Morrison, ZapWorks user and competition winner
What our expert judges had to say
Anna was particularly impressed by the diversity and scale of the experience - both historically and spatially:
"It's so diverse and he's included so many different facts, not just one historical piece. The amount of work that's gone into it is really impressive. What really comes across well with this project is the great mix of both video and 3D content so it's a lot more immersive than static text."

- Anna Broadhurst, Senior Visual and Motion Designer
Meanwhile, Chris was taken by the innovative use of multiple target images and how the unlock card pulled the multiple experiences together into a connected historical journey:
"There's some really interesting elements to this project from a technical perspective, namely the fact he's included multiple targets which we don't normally see.

Having a central unlock card to onboard the user gives a sense of narrative and really helps solidify the series of cards into one cohesive experience."

- Chris Parker, Creative Content Developer
In terms of room for improvement, Chris noted that some 3D models featured dynamic lighting while others did not - it would certainly be great to see this applied across all elements of the experience, while understanding that this would be difficult considering the strict submission deadline. Meanwhile, Anna felt that the call to action (CTA) could have been more persuasive by giving users a bit more information on how they would be rewarded for scanning the experience. A strong CTA is a key element of our 'Three C's' approach to creating amazing AR experiences.
Inspired? Impressed? Absolutely furious? Get involved!
The ZapWorks Forum is a fantastic place to meet other users of a wide array of skill levels, whether if it's for technical support, requesting and exploring features or simply to be inspired by what other users are creating. You'll always find a friendly helpful face, whether it's from the community or one of our active support experts. Give it a go!
Enter the next ZapWorks competition
Want to win fantastic prizes, exclusive products and the glowing admiration of the ZapWorks community? Well, keep a close eye on our blog, forum and our social media channels for updates on our next competition.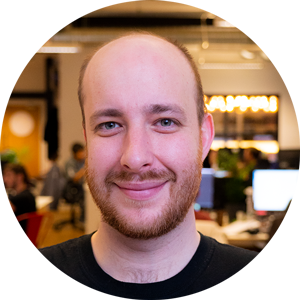 James Wright


Community Marketing, Zappar