On the 20th March we launched Zapvision, see the Zapvision web page, for the first time publicly with Unilever on Persil packaging in the UK. We've had an incredible response to this enhancement to QR codes which we're calling Accessible QR in its drive to make QR codes more accessible for blind and partially sighted users on product packaging. (And it's heartening to see this already being referred to as 'AQR' - got to love an acronym).
Watch the Zapvision explained with Persil, Accessible QR Codes video below.
Find out how QR codes' thirty year journey has taken them, from humble beginnings to becoming a viable accessibility solution on pack.
Where did the QR code start?
It's amazing to think that the humble QR code is coming up to its 30th birthday next year. This 2D barcode first came to existence through the Japanese company Denso Wave in 1994. Standing for Quick Response code, its focus was on high-speed optical reading and efficient data storage to keep track of automotive parts and replace the need for scanning lots of bar codes separately. Here's the science bit for anyone who is interested (or has been afraid to ask). A QR code is detected by a 2-Dimensional digital image sensor (a camera to you and I) and then digitally analysed by a programmed processor. The processor locates the three distinctive squares at the corners of the QR code image, using a smaller square (or multiple squares) near the fourth corner to normalise the image for size, orientation, and angle of viewing. The small dots throughout the QR code are then converted to binary numbers and validated with an error-correcting algorithm. QR codes often contain data for an identifier, or URL that points to a website or application. QR codes use four standardised encoding modes (numeric, alphanumeric, byte/binary, and kanji) to store data efficiently whilst other extensions may also be used. There are different versions of a QR depending on how much data and error correction you want to store in the code. The more data and error correction the bigger the code and the more data bits you see in them.
How QR codes can be used for business
This seeming mess of black squares on a white background made the transition from a B2B use case into advertising in the late 90s given its quick way to direct people to a website without having to type in the URL (I mean, wow we got lazy as a species fast!). Whilst many a creative team in the West turned their nose up at this 'digital noise' adorning their precious artwork in print and OOH, over in the Far East they embraced its function and utility and saw it as a fast and efficient way to share contact details, information, ticketing, ordering and process payments. Turns out function outweighed form in the early days.
How new technologies have impacted QR codes
As mobile phones improved, as did computer vision techniques in the early 2000s, new codes schemes were created offering better scanning performance than QR (our own zapcodes included). And I have a confession to make here that in around 2010 I decried the death of QR 'QR R.I.P' I believe was the headline!) in the face of new more performant codes. But these new code schemes, however good, were ultimately hard to scale in the face of QR. In 2017 ,with the release of iOS 11, QR codes could be read through the native camera on your iPhone and through some Android devices without downloading an external app. Their runaway dominance was complete.
Finally, through the pandemic as we all know too well, QR became the de facto 'touch-less' way to interact with the world and check-in. By 2022 you'd be hard pushed to find someone on the planet who couldn't recognise what a QR code was or understand that it's a short-hand for 'scan to…pay, check-in, exchange information, visit website, log-in etc.'. It has become the one machine readable code we all instinctively understand to scan.
QR codes will soon be on every pack
But that's not the end of its journey. At the venerable age of 30, QR is now scaling up again in its use as the preeminent code featured on product packaging. The likes of global power-houses like Unilever, Reckitt Benckiser and Coca-Cola are putting QR at the centre of their connected pack strategies. And for very good reason: they turn their passive product packaging into an always-on digital and direct conversational channel with their end customers both at point of sale and point of use. Better still, with new GS1 Digital Link standards, this single QR code can be used for all their B2B needs (back to QR's routes for track and trace but also inventory management, stock control, authentication etc.) and B2C in terms of brand storytelling, provenance, sustainability and recycling messaging. One QR code on pack for everything. Well, almost…
How QR codes can support accessibility on packaging
With our new AQR we can also now level up packaging so that it can provide product information to everyone, everywhere whatever their visual acuity. Our new Accessible QR code helps blind and partially sighted people access all the product information on pack and give them independence around an everyday task so many of us take for granted - simply identifying the product and its relevant information and instructions.
With new legislation coming down the track in the EU and around the world for digital pass-porting for products and the European Accessibility Act, there's even greater impetus for CPGs to embrace a new era of mobile ready and digital packaging with QR. Our AQR solution allows brands to make this change at scale in a way that is operationally simple and importantly at the same time can improve the daily lives of hundreds of millions of people who are visually impaired. It doesn't require more space for a new code on your packaging, it's a simple artwork update to your existing QR scheme and the scan logs can be added to your existing data infrastructure as part of your existing connected pack strategy around QR. That's a big win-win for both the blind and partially sighted community and big corporations and it's fantastic to see Unilever champion this new approach as a validation point to the rest of the consumer packaged goods community.
It's been an incredible journey for QR codes and not one I think anyone could have predicted. But this humble code has changed our lives in so many ways and now has the power to enhance the lives of many more through Accessible QR as part of a connected pack program on product packaging. We have the technology to make access to information a basic human right for everyone, everywhere. We've found a simple way to offer this solution at scale through AQR. Now it's just about the willpower of the business community to affect change.
I should say that the current state of AQR in no way solves every problem for the blind and partially sighted community. But it is a small step in the right direction and starts a conversation around inclusivity in product packaging design in general. It's these small enhancements that all add up to make something more meaningful. And if you are in any doubt as to the scale of the issue for the blind and partially sighted community, look no further than the brilliant campaign video below created by the RNIB whom we've been lucky enough to collaborate with and seek expert advice from during our continued development of Zapvision.
Watch the RNIB campaign video below.
Getting started with Accessible QR codes
If you'd like to find out more about Zapvision and how you can apply Accessible QR to your products and packaging please contact us at contact@zappar.com.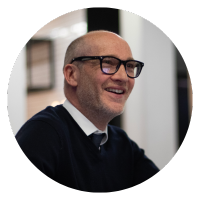 Caspar Thykier


Co-Founder & CEO, Zappar