At WWDC this year, Apple teased something special. During the announcement of their $3,500 Vision Pro headset, they introduced Spatial Video - a new video format that could be recorded directly on the headset to allow you to relive your memories in full 3D. Many commentators were interested in the idea but wondered whether it was realistic to expect people to put on a headset to record those special moments.
Apple revealed their answer as part of September's iPhone 15 launch. Using the new camera layout with the wide and ultra-wide cameras side-by-side, the iPhone 15 Pro and Pro Max would also be able to record these spatial videos for viewing on the Vision Pro when it ships next year. This feature wasn't part of the original iOS 17 builds but was promised in an update before the end of the year.
At Zappar, we've built a super affordable headset, called Zapbox. It includes a comfortable yet light headset that you clip your phone into and two Bluetooth controllers. Here's the best bit... it costs just $80.
We've been eagerly watching the iOS 17 betas for support for recording spatial video and now, with the latest beta of iOS 17.2, it's finally here. As a result, we can announce that Zapbox will become one of the first and most affordable headsets to support spatial video - months ahead of the availability of the (40x more expensive) Vision Pro.
How does it work?
Spatial video is much like the kind of 3D movie you may have seen in the cinema. While a normal video is a single stream of pictures (called frames), spatial videos contain two streams - one for the left eye and one for the right eye. It's the differences between these two streams that our eyes and brains use to perceive depth and thus give us the perception of looking through a window into a real scene.
The only difference between the 3D you've seen at the cinema and spatial video is that, once iOS 17.2 is released, you'll be able to record your own directly from your iPhone 😃.
Zapbox rocks for viewing spatial video
While Zapbox is totally inexpensive, it doesn't compromise the quality of the experience. In fact, it's quite the opposite – we believe that many of the things that make Zapbox different from other headsets on the market also make it fantastic for viewing spatial video:
Zapbox is an 'open' experience. The headset doesn't close you off from your surroundings, nor does it seek to hide your real-world environment. Our sparing use of transparent plastic for the forward frame of the headset, plus careful design of the lenses, means that it's easy to move around your space and interact with others while using Zapbox. That's great for viewing social content, like spatial video, without isolating you from those around you. It's also easy for you to observe the experience someone else is having with the headset, just by looking over their shoulder at the phone screen. That's invaluable for helping those of a less tech-savvy nature get into the content.
The two included Zapbox controllers make it straightforward to select and browse your videos. Spatial videos sit in your iPhone Photos alongside your normal videos, and the Zapbox Spatial TV app lets you browse them with a simple and intuitive interface.
Low-latency colour video passthrough. Our Zapbox software enables incredibly low latency colour passthrough using the ultra-wide camera that has been standard on iPhones since the iPhone 11. This makes for a truly comfortable Mixed Reality experience whilst still allowing for fully opaque content.
With Zapbox, the screen is your phone. You can play back your spatial videos in full 3D immediately after recording it using the same iPhone - no need to convert the file format or upload it anywhere and wait for it to process. It also means you don't have to wait for the battery of an external headset to charge before getting started. It's the most instantaneous way to record and experience your own spatial videos.
There are no new accounts to set up, app stores to join, or tickboxes to tick. Zapbox apps and content are distributed through the normal iOS App Store (and Google Play once Android support is available in due course).
How do I get started with spatial video?
It's easy to experience spatial video right now with Zapbox in three simple steps:
Buy a Zapbox from the Zapbox website
Download the Zapbox Spatial TV app from the App Store
Open the Zapbox Spatial TV app and select a spatial video from your Photos library

Remember, playback of spatial videos with the Zapbox Spatial TV app is supported on iPhone 11 and later from iOS 17.0. Be sure to check the video has Apple's 'SPATIAL' icon in the top left-hand corner before importing it into the Spatial TV app to experience true spatial video. However, you can also view your normal video library in glorious Mixed Reality. We expect spatial video recording to be available on iPhone 15 Pro and iPhone 15 Pro Max when iOS 17.2 ships in the coming weeks.
At Zappar it's our mission to democratise immersive technologies. We believe that inexpensive routes to access are key for the growth of innovations like spatial video, and we hope that Zapbox can help pave the way.

Join the Zapbox Discord
One last thing, you're also welcome to join our Discord server to get the lowdown on all things Zapbox and spatial video.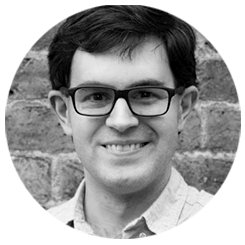 Dr. Simon Taylor


Co-Founder & Chief R&D Officer, Zappar