Caspar Thykier, Co-founder & CEO, Zappar (writing from Augmented World Expo in Santa Clara)
It's been 5 years in the making, borne out of hundreds of projects delivered around the world by our own team, authorised partners and learning from our ever-brilliant community of Zapcode Creator subscribers; but as of this week I'm delighted to announce the full launch of ZapWorks, our all-singing-all-dancing content authoring platform for the new creative canvas on mobile supporting augmented reality and virtual reality content experiences.
If you're a digital creative at a big corporate, small business or simply an aspiring coder or hobbyist, ZapWorks is for you. Our broad suite of tools offers the most in-depth, easy to use, scalable and affordable platform on the market to make the best bite-size entertainment experiences (or, as we call them, "zaps").
ZapWorks features 3D support, scripting language, time-lining, 360-degree photo spheres and a host of other features out-of-the-box including support for the creation of short-form VR experiences. All of these zaps can be published over the air instantly without an app submission either in the free to download Zappar app (on Android and iOS) or through a Zappar embed component in your own app.
ZapWorks comes fully hosted, with real time data analytics, at one simple and affordable monthly subscription with no nasty surprises.
We're witnessing the next wave of mobile interaction through AR and VR applications. Increasingly we're seeing our partners looking to embrace our technology as part of their long-term digital strategy to drive greater engagement, better data and more sales. ZapWorks is part of our mission to democratise this technology with a focus on delivering the best short-form content experiences on the planet to meet the demand of developers and end users looking for better more immersive content for the mobile occasion.
We look forward to seeing your zaps out there in the wild.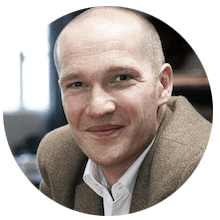 Caspar Thykier


Co-Founder & CEO, Zappar