Over the holidays we challenged you to create an augmented portal into another dimension using only your brain power and Zapworks Studio. Entries were varied and inspired, taking the augmented portal theme to new levels.
We wanted to thank you for all your entries. They've put smiles on faces and created excitement and joy throughout the Zappar office.
Alas, there can only be one winner...
And the winner of the Augmented Portal (or should we say "Porthole") Competition is…Hamed Miri with his immersive submarine, underwater AR treasure hunt.
1st Prize - 'Nautilus' by Hamed Miri
Prize: $500 + a Zapbox kit
Tool: Zapworks Studio + Photoshop and Maya
Using a submarine porthole as the portal, Hamed's winning entry takes users on a journey under the sea where they are challenged to collect hidden eggs before the time runs out. As the game progresses panic and jeopardy ensue with a crack appearing in the porthole of your submarine as you find yourself frantically searching for the final golden egg.
As a nice value-add, Hamed also included a photo feature at the end of the game, where winners could take a selfie with their bounty (a golden egg) and share with friends.
Connell Gauld, co-founder and CTO of Zappar said of the winning entry:

"Hamed's portal entry was a clear winner for me. The implementation of the portal experience was great, and the simple (yet addictive) game-play element really shone through. Congratulations Hamed!"
Simon Taylor, co-founder and Research Director of Zappar said of the winning entry:

"I particularly liked the smooth transition from target to experience followed by the reveal of the game, not to mention the added jeopardy of finding the golden egg towards the end. A really good use of AR and storytelling throughout."
Hamed works at ARshow, an AR agency in Iran, you can reach out to him at https://donyaye-agahi.com/
Honourable mentions
As the quality of entries was so high this time we grabbed Tom and Anna from our creative team to critique some of their favourite entries. Here's what they had to say...
'Through a glass (of water) darkly' by Len van der Westhuizen
Len's experience brought the stark reality of the water drought in Cape Town to the forefront of everyone's minds at Zappar. Using 2D and 3D assets, Len created a vivid window into this sobering reality.
What the judges thought...
"A lovely portal environment, utilising 3D objects and well-crafted imagery. The experience gives a real sense of depth that compliments the narrative perfectly."
Connell
"Len has used AR effectively to create a meaningful depiction of such an important, topical subject that you can easily see driving awareness and engagement."
Simon
'What were you thinking?' by Johnny Hamilton
Johnny built this AR experience around a professional development scenario between two colleagues. Using AR the user can see inside each person's head, giving a unique perspective on how businesses should approach internal professional development. Keep your eyes peeled for the Easter egg hidden within the experience!
What the judges thought...
"I loved the "inside-out" vibe of seeing inside the characters' minds. A really interesting way to tell an internal comms story in a novel and engaging way."
Connell
"Great use of various forms of media (video, audio & isolated environments) combined with dynamic linking to external resources."
Simon
What did you think of the winning experience?
Head over to the Zapworks Forum and tell us what you thought of our competition winner and our honourable mentions.
Enter for the next Zapworks competition
If you didn't have time to enter our Zapworks competition this time around, don't worry, we'll be announcing our next competition shortly.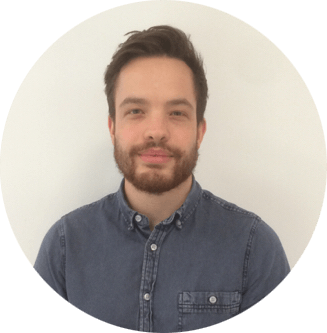 Dave Mather


Head of Marketing, Zappar