Since launching Zapworks Competitions back in Oct 2017, we've challenged you to create a spooky 3D Halloween experience and an augmented portal experience. This time around we took things up a notch, tasking you with building your very own 360 gyro experience, and as always, you didn't disappoint.
We wanted to thank the Zapworks community for being truly awesome, the depth and quality of experience for the gyro competition has blown us away. If you haven't entered for a Zapworks competition yet, don't worry, you can get yourself competition ready over on the Zapworks Docs.
Without further ado, the winner of the Zapworks 360 Gyro Competition is…
1st Prize - Hinamatsuri Card by Bradley Cox
Prize: $500 + a Zapbox kit
Tools: Zapworks Studio
Name: Bradley Cox
Forum handle: Bradleycox255
Bradley's winning entry combined tracked content with a 360 gyro experience, skillfully bringing the ancient Japanese tradition of Hinamatsuri to life.
Upon launch, users were challenged to place Japanese ornamental dolls on a Hinadan (doll stand). Once all the dolls had been collected, users could launch the 360 gyro view, dropping them into the experience and onto the Hinadan itself.
They could then explore the scene further by tapping on additional hotspots within the 360 gyro which placed them on different rows of the Hinadan and also enabled them to learn more about Hinamatsuri Day.
Why the judges picked Bradley...

Zappar Lead 3D Artist, Matthew "Dewd" Dewdney Smith on Bradley's entry -

"Bradley's experience was the clear winner for me, combining well executed 3D work, game mechanics and the 360 gyro experience itself, as well as telling the story of Hinamatsuri in a new and engaging way."
Zappar Lead Designer, Anna Broadhurst on Bradley's entry -

"I absolutely loved Bradley's experience, he's combined tracked content with a 360 gyro incredibly well. I fell in love with the ornate nature of the experience and the detail of the dolls - he's added a unique twist to Hanamatsuri that's engaging and interactive but also in-keeping with the tradition of the day."
For those interested in learning more about Bradley's Hinamatsuri Card experience, head over to the Zapworks Forum.
Honorable mentions
Here's what they had to say...
2018 International Women's Day - Women in Tech by Milenne Tanganelli
Tools: Zapworks Studio + Modo + Photoshop
Name: Milenne Tanganelli
Forum handle: Digital Pop-ups
Milenne brought to life the stories of eight female pioneers of the technological age for International Women's Day 2018. The experience enabled users to learn more about the context and background of the day, as well the achievements of the pioneers.
Each of the eight women were placed inside a 360 museum environment where users could explore different rooms of the gallery by tapping on hotspots within the experience.
What the judges thought...
"The 3D used in Milenne's experience was executed really well, I also liked that she included a social share element to her experience by including a photo feature at the end. "
- Dewd
"A great use of 360 gyro that told the story of these eight female pioneers in a powerful and engaging way - well done Milenne!"
- Anna
Jack's Revenge (this time Jack brought friends) by Steve Morrison
Tools: Zapworks Studio
Name: Steve Morrison
Forum handle: stevesanerd
Building on his entry for the Zapworks Halloween competition, Steve's added new features and functionality to take 'Jack's Hide 'n' Seek to a whole new level.
Once scanned, the experience transports the user to a SNES style controller, where they have the option to hit 'start' to launch the game or read the instructions before playing.
Inside the game, there are two different types of jack-o'-lantern to collect before the time runs out. Watch out though, if you collect the wrong type, you may just be in for a fright…
What the judges thought…
"Loved the 90's arcade game feel to Steve's target image and SNES style home screen. Steve's 3D rigging and animation were spot on - he's also made great use of Studio's built-in lightning and smoke effects."
- Dewd
"The 360 gyro experience for Steve's entry was spooky, intense and atmospheric!"
- Anna
A note for future entries
We received a few entries for the competition that were of really high quality but were unfortunately disqualified for being in breach of copyright, and therefore the competition terms and conditions. Please ensure in future that you respect copyright, as we were really disappointed that we had to disqualify two experiences that were of extremely high quality.
What did you think of the winning experience?
Shoot over to the Zapworks Forum and tell us what you thought of Bradley's winning experience and Anna and Dewd's honourable mentions.
Enter for the next Zapworks competition
Want to be a Zapworks competition winner like Bradley? We'll be announcing the next Zapworks competition shortly, so jump over to the docs site to read-up on Zapworks Studio and the assortment of AR experiences you can create.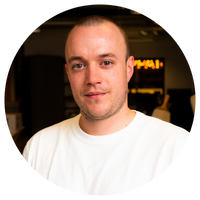 Chris Holton


Head of Product, Zappar