With the 8th Annual Augmented World Expo kicking off today, we thought we'd give you a quick run-down of what you can expect from the Zappar team at the show, from keynote talks, to the official global launch of ZapBox.
ZapBox launches at AWE 2017
AWE is the official global launch of ZapBox (Hooray!) and the first time it will be on sale and available for anyone in the world (consumers and journalists) to get their hands on. The Zappar booth will be completely dedicated to ZapBox, with just under 100 kits available on a first-come-first-served basis - get there early guys and girls!
The reaction at closed meetups and events has been incredible, so we're super excited to get the first ever public reaction to ZapBox at AWE.
At no other event have people been able to try it themselves...so do not miss out!
Zappar Keynotes at AWE 2017
We have three keynotes from the Zappar team at AWE this year, including two very special ZapBox talks from Zappar Co-founders, Connell Gauld and Simon Taylor. We'll also have an 'AR & VR in the boardroom' talk from our Head of APAC, David Francis.
'Building Collaborative MR with ZapBox'
Connell Gauld, Co-Founder, CTO, Zappar

Design-UX - Room H

2:15pm - 2:30pm May 31

We've built ZapBox - our amazing, yet affordable, Mixed Reality platform. At $30 it's 100x cheaper than Microsoft Hololens but still allows your users to experience room-scale, fully tracked, MR experiences - complete with controllers. In this session, I'll be showing you just how easy is to build these experiences in ZapWorks Studio. If you're well behaved then we may even incorporate some collaborative elements allowing multi-user interaction live on stage. By the end of this talk, you'll be well on your way to make epic MR experiences with ZapBox.
---
'Making Mixed Reality An Affordable Reality'
Simon Taylor, R&D Director and Co-Founder, Zappar

Tools & Products - Tools Pavilion Theater

11:30am - 11:45am Jun 1

To make a Mixed Reality kit for $30, not the $3000 for a HoloLens dev kit. That was our goal. And through our successful Kickstarter campaign in December 2016 (281% subscribed) we've achieved just that. In this session, we'll be introducing ZapBox to AWE for the first time and exploring how we're making mixed reality an affordable reality for the next generation of developers. It's all about changing how we interact with the world around us through this amazing new creative canvas.
---
'In the Boardroom. CMO's, CTO's and CMO's - and AR/VR'
David Francis, Head of APAC, Zappar

Work - Room 203/204

12:15pm - 12:30pm Jun 1

This session will outline where AR and VR sit in the Internal, B2B and B2C space for global companies. Why would a large company invest in platforms and content, and how can the costs be rationalised in the current economic climate? By speaking to real campaigns and metrics, experience with C-level executives and multinationals, David will identify the key elements that take AR and VR from POC's and innovation 'window-dressing', into operational and marketing mandatories.
---
Press Conference
As if three keynotes from the Zappar team wasn't enough, we're thrilled to have been awarded one of the five-minute slots in the main show press conference to introduce ZapBox.
The press conference will be taking place tomorrow (June 1) at 10:30 am (PT) in the main theatre. See you there!
Where to find us at AWE 2017
You can find us at booth 208 in the main sponsor's pavilion. They'll be five of us on-hand to answer any questions you may have about ZapBox and everything Zappar related. We love meeting backers in person, so if you're at the show don't forget to stop by for a chat, our booth will look a little something like this...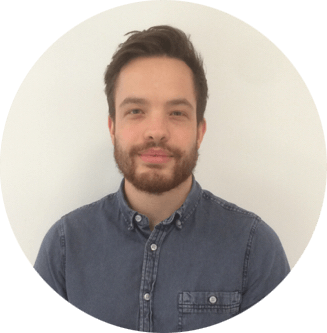 Dave Mather


Head of Marketing, Zappar