Zappar's been operating for over six years now, which seems like a fairly short time in many business circles. But in AR years – much like dog years – that's a significant length of time. The pace of change in the AR space is increasing rapidly as this captivating technology becomes more ingrained in everyday culture and used for mass market deployment. Facebook's announcement has the potential to make AR even more mainstream in the very near future.
There have been other significant events that can be plotted on the AR timeline that have reframed augmented reality in consumer's, analysts', and the media's minds. Rovio's Billion BirdCodes for instance, Pokemon Go of course, Snapchat Face Filters, Shazam's visual search capabilities and now Facebook's recent F8 announcement around their AR Studio for new camera filters.
Additionally, brands have been taking advantage of AR on mobile for a number of years already – and to great effect – in consumer products, packaging and retail initiatives. They've used it to drive consumer engagement, promote in-store events, encourage app downloads and, of course, drive purchases, as part of their omnichannel strategy. We've been helping many of them do just that. Most notably, we've worked with brands such as Hasbro, Panini, PEZ, Warner Bros, Universal Studios, DreamWorks, Nickelodeon and Rovio alongside retailers like Carrefour, Asda, Tesco, Toys "R" Us and Woolworths.
These types of initiatives shift the discourse on AR from powerful enterprise tool to mass market technology.
The significance of Facebook's announcement
What's significant about Facebook's announcement, of course, is the fact that they're opening up content creation to the community.
As when Facebook Messenger and Snapchat legitimised our long-held approach to the use of codes here at Zappar (thanks!), this new move is another step toward mainstreaming what we've always seen as the most important aspect of AR – the end user experience. What people care about – and what's so engaging about AR as a digital discovery channel – is how it allows designers and developers to 'think different' about content creation and storytelling on the handheld devices and headsets of the future.
Rather than talking about AR, VR and MR, I think there's a compelling argument to be made for considering this as a new frontier of spatial computing. The real estate we're using is accessed through the devices' screens and cameras, but ultimately it's reframing the space between our eyes and the world around us (real or virtual). For brands, advertisers and agencies, this really couldn't be more exciting. It's literally like discovering a new dimension and entirely blank canvas to tell stories, deliver messages and share information. It turns all passive print, packaging, products and places into living media channels that can be accessed by the most important single device in people's lives right now (and in the immediate future) - their smartphones.
What we've learned from thousands of AR activations
What we know from the thousands of AR activations we've created at Zappar around the world catering to diverse audiences is that this technology scores extremely highly on user engagement, active dwell time, interaction and repeat usage.
In media terms, this translates to enormous value. As we all know, in an increasingly fragmented media world, creating relevant content and experiences that people want to engage with is what matters most, even more than the amazing technology that delivered it or which channel it exists on.
There's no shortage of powerful hardware in the hands of users given the proliferation of smartphones with the right cameras, processing power and operating systems to deliver AR.
What's required is better, more ubiquitous content that's more widely distributed to connect the dots between the pockets of activity that are currently AR enabled. What has perhaps let AR down is that, for the most part, it's not been instantly shareable. Well, that's all about to change with the Facebook announcement.
Scaling AR
This news should put to rest any doubts – be it from brands, marketing professionals, or agencies – that AR can scale and achieve mass market adoption.
But Facebook's implementation is only one small aspect of what's possible with AR as a content creation tool built from the ground up to support experiences on mobile using computer vision inputs like our very own Zapworks. It's fair to say that there's a lot more depth to AR when the experience is contextually relevant and can be deployed globally, rather than as just a filter to a photo. When attached to products in the real world supporting a broad range of immersive experiences and interactions, AR begins to reach more of its commercial potential.
This is where codes + content come into play and offer business owners a way to make sure the value they're capturing in AR implementations doesn't only support their Facebook social media strategy in a walled-garden setting. Beyond that, it can act as an agent of change across their businesses on both an enterprise and consumer level as part of their broader digital strategy: connecting every brand touchpoint to their end users through their mobile devices.
This is where passive print turns into interactive products and packaging brand owners can offer deeper discovery and exploration to surprise, inform and delight users on an ongoing basis. Every single product can have its own digital persona and passport when given its unique zapcode with content that is updatable to best 'speak' to its end users throughout its lifecycle. And better still, that zapcode data is available in real-time for the brand owner to evaluate, measure, learn and improve.
Don't get me wrong, the social usage of AR is, without question, fun! But the real benefit of AR, I believe, is where the user experience and implementation will ultimately offer more significant everyday value to meet more direct needs. That value will be driven by the context, relevance and quality of the content experience to the end user. Social filters are one part of that, but not the whole story.
It's for this very reason that we've focussed all our energy as a business on creating the best, fastest, most robust globally unique code solutions that can be applied to almost anything through our patented zapcode solution; it's also why we've built the most complete content authoring platform through Zapworks to cater to all developers and designers of all levels of experience.
We could not be more excited that Facebook, as with Pokemon Go, will have introduced more brands, agencies and developers to the power of short form AR experiences as snackable content. That's great news for the industry and for us. We want to create class-leading AR content tools for developers, designers and brands and help them dig deeper into how they can create greater longer term value for their businesses through AR in a way that's robust, scalable, efficient, valued, measurable and ownable.
---
Postscript: Writing this article reminded me of a pitch we made to Facebook over three years ago introducing the opportunity for AR, along with what we affectionately called 'Facebook codes' and the proposal to open up content creation tools to the developer community through a version of what we then called the Zapcode Creator. Watching this video now, it looks like an infomercial from the '70s! But it turns out we were onto something way back then. As I said at the beginning, 2013 in AR terms might as well have been decades ago...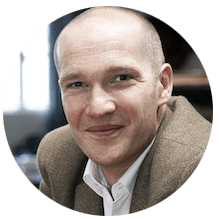 Caspar Thykier


Co-Founder & CEO, Zappar