As the year draws to a close, we are already eagerly awaiting the next eye-popping products and capabilities that will redefine reality in 2018.
Total spending on AR/VR products and services are expected to soar from $11.4 billion in 2017 to nearly $215 billion in 2021, highlighting the rate at which innovation is gathering speed.
From the Microsoft Hololens and Sony's SmartEyeglass to Shazam Visual, Snapchat ART and Apple ARKit, this year has been rife with the release of different AR apps, games, and software. AR is a game-changer that is now undeniably in the mainstream.
Looking ahead, here is my take on what trends we can expect to see across the immersive computing industry (encompassing AR, VR and MR) over the course of next year:

Major players will up their investment in AR continuing the momentum into the mainstream
This year we saw a number of big players bolster their AR offerings, including the likes of Apple announcing its ARKit framework hastily followed by Google's ARCore.
In 2018 that trend is set to continue—expect many more major announcements from Magic Leap, Amazon, Apple, Facebook, Snap, Google and Samsung, who'll further ramp their investment in immersive computing.
Developments in hardware and software will continue to align to make the ability to create content for AR more robust, scalable, efficient and affordable.

Connected packaging will reimagine products and disrupt the media landscape for brand owners
Brands will begin to realize that their own owned media (which constitutes anything under a company's direct control) and specifically packaging may just be their most powerful and untapped communication channel yet - both in terms of engagement and measurement through better analytics.
We can expect to see a major uptake in connected packaging as an always-on media channel brand owners control to engage with their users through the device that matters most to them in their lives - their smartphone.
This will allow for more contextually relevant messaging, greater marketing attribution and retargeting opportunities.

Education, Learning & Training will see the benefits of immersive computing
The potential for learning, training and education through this enabling technology will begin to explode.
Early exploration through Google Expedition and more immersive VR experiences have shown just how powerful computer vision can be for active learning through doing.
Whether that's for STEM, vocational learning in the fields of medicine, design or architecture; or for internal workforce training.
Immersive computing will help tackle difficult to understand problems and concepts, improve efficiency, time to completion of tasks, aid recall and more.

Creative agencies will have their day again
With AR technology requiring content developers to make worthwhile experiences for brands through storytelling in mobile micro-moments, there's a massive opportunity for creative agencies.
2018 will see them trying to increase and capitalize on translating their combined creative and strategic abilities into new-found AR capabilities.
Content authoring and publishing platforms and ecosystems that support the creation of immersive, engaging, bite-sized content for developers and designers will flourish.

Content will become more targeted and contextually relevant
From the NBA's Sacramento Kings to fashion brand Kate Spade, we've seen a number of industries crossing the chasm from AR early adoption to mainstream use.
Expect music, sports and entertainment verticals to deliver much more visually appealing, contextually relevant AR experiences within the next year, as brand owners realize how important AR is as an engagement and monetization channel for content.
Popular culture will fuel wider mainstream awareness.
While your average Joe is now a little more likely to have heard of AR, VR and MR than a year ago, the release of mainstream content, including upcoming blockbusters like "Ready Player One," and concept albums from artists like Plan B, will help spread the wider appeal and understanding of computer vision to both consumers and brands.

Conclusion
In short, 2018 is the year that we will see an explosion of immersive computing as it becomes ever more mainstream on ever more devices.
We will no longer talk about AR but focus on the benefits of the products and solutions it powers.
We'll be continuing to focus on our mission of democratizing AR and bringing it to the masses by supporting the next generation of content developers with the best cutting-edge, easy-to-use, robust, scalable, affordable and truly expressive products, tools and capabilities to make the finest short-form experiences on the planet. 2018 can't come soon enough…
---

Related links
9 actionable ways brands can improve their packaging with AR
Designing AR experiences that add real value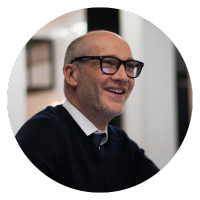 Caspar Thykier


Co-Founder & CEO, Zappar