By: Caspar Thykier, Co-founder & CEO at Zappar
What becomes apparent over time about augmented reality is that you can explain it in a hundred different ways, create countless video demos and come up with any number of pithy sound bites as to what it is but nothing beats actually showing it to people. It harks back to the good old principle of "Do what you say, don't just say what you do".
We put that into practice at Event Tech Live at the Truman Brewery in London.
Our real interest as a business is finding use cases where augmented reality can genuinely offer a solution to a given business or consumer problem rather than just be applied as a marketing gimmick. (If the use of AR isn't fundamentally an improvement over another simpler solution then why use it?).
The whole area of events has always intrigued us as a particularly interesting and potentially perfect sector for the application of augmented reality.
Research shows that events occupy the No. 1 slot for marketing spend in a CMO's budget. Creating more opportunities for positive connections, sales leads and evaluation metrics to justify this expense is critical. Increasingly, the ringmaster coordinating the push and pull of the event is the show app: the tool for registration, managing schedules, following trending topics and becoming part of the conversation during the ebb and flow of a show.
In this context AR becomes a complimentary technology for an events app creating a bridge between the physical world of the show itself and digital world of the show app. It's an engagement and informational tool that offers new messaging and delivery mechanisms across all physical touch points pre, during and post event. From badges to booths, signage to sponsorship opportunities.
For the organisor that means new sponsorship opportunities for lanyards, show signage, tickets, banners, coffee cups and all media sales with a measurable element at the end of it all in terms of true engagement. So new revenue opportunities.
For the exhibitor it's about increasing your ability to connect with more users at the show from your stand with interactive content and data capture mechanics for better follow up and conversion. So better potential ROI.
For attendees it's an easy way to information gather, explore and get more involved in show promotions with a simple way to then store the contact details and information gathered for review post show. So better use of time.
And for the events app developers it's another great engagement tool and pull mechanic to get people downloading and interacting with their app more often to get more vital data and analytics for clients about their audience as well as opening up new sponsorship opportunities.
We've designed our software and tools to allow for simple, scalable, personalized and rapid deployment of AR within events at an affordable price using our unique zapcode solution, Zappar Studio tool and APIs whilst delivering easy to access analytics at the back end.
Zappar embedded in a show app acts as a remote control across the multiple exhibitor channels at an event which you can zap at will. It's the connective tissue between the physical show environment and the digital layer provided by the app: helping service the concurrent needs of organisors, exhibitors, attendees, sponsors and app developers. As with a remote, you decide what content you actively want to receive (or store for later) rather than being passively bombarded with alerts and push notifications.
The use of AR integrated into a shows app further anchors a users device into the physical event space and provides added data points based on a user's scanning history (as a supplement to systems like iBeacon). Zappar helps increase adoption in terms of installs, stickiness and positive consideration.
Ultimately events are a buyers and sellers market where everyone is looking to come out economically, intellectually or emotionally enriched. A huge amount of planning, man hours and money go into these typically 1-3 day schedules so the impetus to deliver a return on investment is hot-housed and heightened. As with many things in life the most rare of commodities (other than decent Wi-Fi, coffee and a seat) at shows is time. So solutions that can provide better uses of time – in terms of quality of experience or efficiency – and also deliver better après-show tools would be beneficial.
Our theory as far as events are concerned was that Zappar and augmented reality could help deliver an added value experience to a more connected, interactive and engaging show for all parties. When put into practice at Event Tech Live we saw just that.
We incorporated our Zappar embed component and scanning technology into the Event Tech Live app working with iWazat; our collaboration with n200 from a registration perspective meant that all show badges featured a zapcode introducing the feature to attendees; signage for all the booths and exhibitors carried a zapcode which when scanned offered a quick and easy mechanic for delegates to find out more information about these companies and store their contact details; we added a level of gamification with participating sponsors/ exhibitors who donated to a £10,000 swag bag. Each participating brand was given a special square zapcode and signage for their booth. If attendees scanned all 12 codes around the show at these stands they were entered into the free prize draw. And finally we had our own Zappar stand complete with interactive signage as well as hosting "campfire" discussions and participating in panel sessions on best practice and case studies for augmented reality within the event space.
The results: 801 "zaps" in one day with a total of almost 10 hours' worth of time engaging in Zappar Powered experiences. 30% of the c. 1,000 delegates downloaded the event app and 98% of those engaged with the Zappar elements.
I have to say a special thanks the guys at Event Tech Live, iWazat and n200 for being such brilliant partners and pioneers in bringing AR to the event with us. And let's not forget this is a tech event aimed at events people. Talk about in at the deep end - you don't get a tougher crowd then that!
In summary, the use of Zappar within events becomes the connective tissue between attendees, exhibitors and organizers bridging their digital and physical experience providing greater analytics, opportunities to convert sales leads and generate new revenue. For the app development community servicing events it becomes another fantastic tool and driver of downloads, engagement and analytics. We've now proven that model and shown that it can be achieved both technically and logistically. Now it's about taking it onto a world stage. From the feedback and interest we've had from Event Tech Live we're excited about this fantastic use case for AR in conferences, trade shows and events.
Loved meeting @ZapparApp today! Such a cool concept #eventapp #ETL15 #eventprofs

— Claire Ackerman (@clairefivehats) November 11, 2015
Amazing app creation from @ZapparApp great example of enhancing a customer experience! @eventtechlive #apps #events pic.twitter.com/VQNB3rtFFl

— ignis (@IGNIS_AGENCY) November 11, 2015
Good to see @ZapparApp tech embedded at #ETL15 pic.twitter.com/MXMeBFXGvR

— Duncan Newbury (@outdoor_dunc) November 11, 2015
The coolest AugmentedReality Businesscard ever!! By @ZapparApp #ETL15 #FontysACI pic.twitter.com/Orb4vA3rFH

— Paul Schreuder (@paul_schreuder) November 11, 2015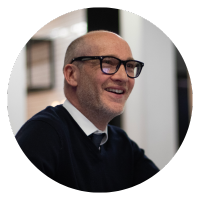 Caspar Thykier


Co-Founder & CEO, Zappar