A guest post from ClueKeeper's Founder & CEO Rich Bragg
"You guys, I think she's got it!"

"Check out what happens when I scan this pinball machine. Everything starts moving… and yep, look, I think this is the clue."
Since teaming up with Zappar, ClueKeeper can now offer unique interactions like this AR-enhanced pinball clue featured at the new "Escape from the Musée Mécanique" hunt in San Francisco, which launches today!
ClueKeeper was founded in 2013 as a platform for riddle lovers, puzzle aficionados, professional hunt designers, and even just groups of friends who love the thrill of discovery to create and play clue-based hunts out in the real world. We've had a great response from the community so far, but needed something special to grab the attention of new users and give our existing users something new and fun. Essentially, we wanted to add a "wow" factor to the platform. And what better than augmented reality to step up our clue game?
"Ghost Patrol," a recent event-style hunt held in Walnut Creek, CA featured Zappar-enabled clues in the ClueKeeper app
AR felt like such a natural fit for us because we knew we wanted to give people an experience beyond just looking at their cell phones. We wanted them to feel more connected to the world in a meaningful way. Zappar was the perfect partner to give our players and creators an enhanced experience and to keep them coming back for more.
We went with Zappar—and especially its ZapWorks creative tools—for the most basic, yet crucial, reason: The technology worked really well. The AR experience is seamless for our users and it works every time. With the Zappar component embedded in the ClueKeeper app, users don't have to jump out of the app, go somewhere else, and come back. It's all right there and maps nicely onto the experience our users were used to having. Each clue has always been in a snackable, contained environment, and that is still true for the Zappar-enabled clues.
The same goes for the experience of creating a hunt. We've always wanted to make sure that builders don't need technical expertise and certainly no software engineering ability to create fun hunts. And so any AR-building had to pass that same test. Fortunately Zappar has great tools that integrated directly with ours, allowing the processes of building a hunt with or without AR elements to be very similar.

Pokémon Go (obviously we were going to get to Pokémon Go at some point!) in particular was eye-opening for us not just because of it's huge popularity, but also because we had always thought that building an AR experience meant that you had to identify something in the scene, track to that, and augment something very directly and specifically. Pokémon Go has shown everyone that we can just show whatever the background is, put animations or other forms of interaction on top of it, and it'll still be a fun and engaging experience for users. So now we advise our hunt creators to not feel constrained by finding good tracking images. It can all be a lot simpler.
Caspar (Zappar CEO) and Jeff (Zappar VP) with the ClueKeeper team in San Francisco
We've published a free sample hunt, "Gnome Invasion," that users can download now from within the ClueKeeper app (under "Find Hunts") and play right at home. More creators are getting on board and publishing Zappar-powered hunts like Locurio's "The Mysteries of Noximiliian," currently available in Seattle, "Ghost Patrol" highlighted, and Shinteki's upcoming "Escape from the Musée Mécanique" hunt in San Francisco, launching today and available for preorder now . We're always looking for more creators to publish hunts and for venues like museums and galleries that are interested in building and selling AR-powered hunts to their visitors.
We're really excited to see where we can take AR with this great partner in Zappar. Our long-term vision is for people anywhere in the world to be able to pull up the ClueKeeper app and find a great hunt they can play. We want it to be an experience players keep coming back to again and again. And with these new Zappar-powered hunts, we're confident in that future.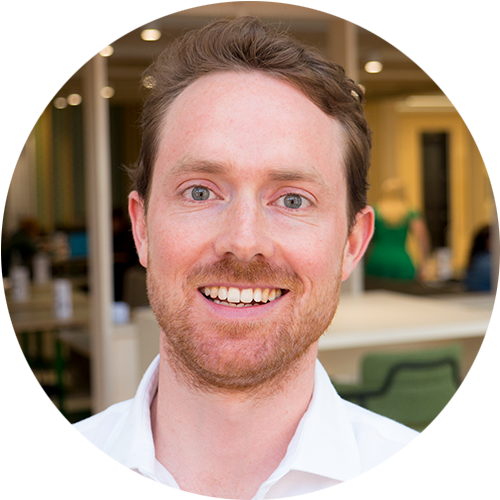 Max Dawes


Managing Director, Zappar