With the final guest list prepped and ready, the AR party is finally happening!
Over the past 12 months, we've had some major AR unveilings from Snapchat, Instagram, Shazam, Facebook, Google, and now Apple's ARKit is rounding out the partygoers. This follows some great acquisitions from the gathering with Metaio by Apple, Cimagine by Snapchat, Masquerade and 13th Lab by Facebook, and Moodstocks by Google, amongst others.
What does this mean to developers and end users?
Simply put, AR as a revolutionary software interface for smartphones (and wearables of the future) just got more mainstream and is easier to functionally implement than ever - at least by the Fall, when ARKit becomes available.
A few of the concept videos for ARKit look fantastic. At Zappar, we're excited to play with its visual odometry capabilities to see how it could potentially sit alongside our other tracking algorithms to support and further enhance content made through ZapWorks.
However, there are still some important considerations for brands and developers. First up - and most importantly - ARKit is only for iOS. Most businesses' end consumers don't exclusively live on Planet Apple, so getting parity of experience across operating systems will be a bit harder to achieve. It also only offers full tracking on iPhone 6S and up, which needs consideration for certain sectors, audiences, and geographies, and the SDK would need to be built into separate apps for each piece of content.
The good news is that content-wise, ARKit links up with Apple's existing APIs for 3D scenes, along with Unity/Unreal integrations, which helps with existing workflows for many game developers. And while it's speculation at this point, offering a simple API around inside-out tracking opens the possibility for Apple to add additional hardware to improve the quality of the visual odometry on iPhone 8.
Overall, you certainly feel that the announcement around ARKit is just the start of the AR journey for Apple - the canapés at the AR party, if you will.
From a Zappar and ZapWorks perspective, integrating ARKit seems relatively straightforward. However a key advantage of ZapWorks is that it offers a single content workflow with consistent cross-platform behaviour, so before integrating any features such as ARKit that would be limited to a single platform we would need to weigh up the advantages of the feature against the added difficulty for content developers dealing with the resulting fragmentation of capabilities across devices.

Based on the last seven years of our work, we know that in the entirety of Zappar Powered campaigns, 55% of zaps are on Android, with 45% on iOS. In Brazil, it's 85% Android and 15% iOS, while the US is 38% Android and 62% iOS. This spans across the world in over 200 countries, and follows the pattern of average install base for devices per region. Ultimately, there is no doubt that the future holds more Tango enabled Android devices to bring both platforms up to parity, but until then, it will be interesting to see how developers handle this cross-platform conundrum for content.
It should be noted that although ARKit helps drive greater stability and ease of implementation for general tracking, it still requires content creators to think deeply about the three C's for AR success (context, content, and call to action) to create experiences with genuine value for end users. Just because it can be done with AR does not mean it should. The value proposition still needs to add up for augmented reality as the right interface versus other solutions. We've certainly learned over the years that the context of the experience is essential, and that in many instances and use cases, the one-to-one relationship between physical object and augmentation is a key driver of relevance and value. Having 3D objects placed in the camera view certainly has many great use cases, but it remains as only one aspect of the wider opportunities AR offers.
As this is an exciting time, let's not get lost in the detail - instead, we can focus on the fact that AR has come of age. In the past year, it's been the central pillar of all the recent announcements from major platforms, operating systems, and hardware manufacturers' keynote addresses.
With that being said, it's now all about the creative community and how they build great AR content. This is where ZapWorks - our content authoring tool which recently won the Best Authoring and Publishing Award at Augmented World Expo - steps in.
It's the icing on the cake, so let's get this party started!
Related links
AWE 2017 round-up: ZapWorks wins Auggie Award and ZapBox sells out within two hours
Apple enters the augmented reality fray with ARKit for iOS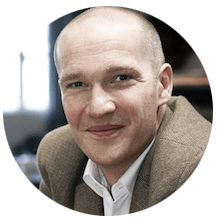 Caspar Thykier


Co-Founder & CEO, Zappar